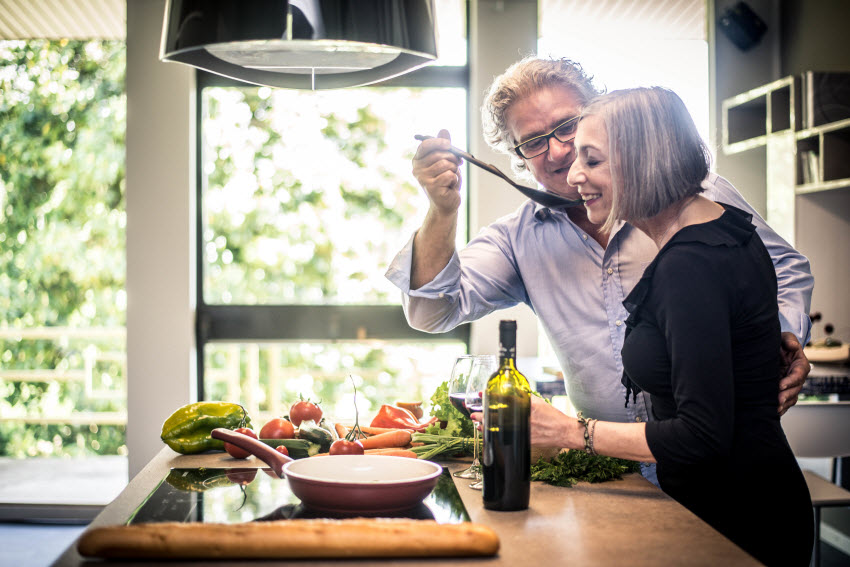 You are a busy person and eating healthy can sometimes (or all the time) be really hard to do. These fast vegan recipes for on-the-go health (courtesy of Pickles and Honey) will enable you to prepare and take with you good choices that keep you going all day long.
Let's face it, vegan eating is popping up everywhere and as much as you might embrace it or be annoyed by it, there's some real evidence behind at least giving it a try. Although it could sound completely undoable at first (no meat, eggs, cheese, dairy or honey) many have significantly changed their health by eating completely or even occasionally vegan.
Jumping on the bandwagon or diverting from cultural norms may not be your thing but improving your health, for yourself and your loved ones, just may be worth it.
Quick Stats
Before jumping into these easy to prepare vegan recipes, take a quick look at study conclusions (reported by Healthline) which show some of the many significant benefits of eating vegan.
Weight loss – "Participants who completed the 18-week study lost 9.5 lbs (4.3 kg) if they were in the vegan group, compared to 0.2 lbs (0.1 kg) if they were in the control group." – European Journal of Clinical Nutrition, 2013
Child Obesity – "Children following the vegan diet lost 6.7 lbs (3.1 kg) over the four-week study period, which was 197% more than those in the AHA [American Heart Association] group." – The Journal of Pediatrics, 2015.
Diabetes – "By the end of the 74-week study period, 17 participants in the vegan group reduced their diabetes medication dosages, compared to 10 in the ADA [American Diabetes Association] group." – American Journal of Clinical Nutrition, 2009.
Joint Pain – "A whole-food, plant-based vegan diet improved symptoms in participants with osteoarthritis." – The American Journal of Clinical Nutrition, 2014
Take advantage of these healthy stats and see if you can do vegan on the run first. Once you start replacing poor choices (pizza, burgers, chips, and candy) with these wholesome recipes you can branch out to a full course vegan meal.
Until then, start slow and see if these might work for you. Unconventional ingredients like spelt flower and flax seeds can be found in a local health food store however more mainstream supermarkets are carrying vegan friendly ingredients.
Parsley Almond Pesto White Bean Hummus – 10 minutes
1 bunch fresh parsley
¾ cup raw almonds
3-4 medium cloves garlic, chopped (depending on how garlicky you like it)
2 tablespoons extra-virgin olive oil
¼ cup freshly squeezed lemon juice
¼ cup nutritional yeast
2 tablespoons tahini
1¼ teaspoons fine-grain sea salt
½ teaspoon black pepper
3 cups cooked cannellini beans (about two 15 ounce cans)
2 tablespoons filtered water (more if you want a thinner hummus)
Combine the parsley, almonds, and garlic in the bowl of a food processor and pulse until finely chopped. With the food processor running, stream in the olive oil and lemon juice. Turn off the machine, scrape down the sides of the bowl, and add in the nutritional yeast, tahini, sea salt, and pepper. Pulse several times until everything is well combined. Add in the beans and water and process until smooth, scraping down the sides of the bowl once or twice. Taste the hummus and add more salt and/or pepper if necessary.
Vegan Garlic Sesame Noodles – 23 minutes
1 pound brown rice spaghetti (or vermicelli if you prefer thinner noodles), cooked in salted water
1½ tablespoons toasted sesame oil
1 cup sliced green onions, divided
7 medium cloves garlic, mincedscant ½ teaspoon red chili pepper flakes (or to taste)
¼ cup tamari sauce (or soy sauce if not gluten-free)
¼ cup coconut sugar
2 tablespoons rice vinegar
sesame seeds for garnish
Heat a large pan over low-medium heat. Pour in the sesame oil and once warmed, stir in ¾ cup of the green onions, garlic, and red chili flakes. Cook until the garlic is a light golden brown and fragrant, stirring every so often so it doesn't burn. Add the tamari, coconut sugar, and rice vinegar and stir to combine. Add the prepared and drained noodles and toss to coat them in the sauce. Allow the noodles to cook for 1-2 minutes, or until they are heated through. Garnish with the remaining ¼ cup sliced green onions and a sprinkle of sesame seeds. Serve immediately.
Hippie Carrot Muffins – 30 minutes
1 flax "egg" (1 tablespoon freshly ground flax seeds, 3 tablespoons warm water)
1 cup plain unsweetened almond milk
½ cup coconut sugar
1 teaspoon vanilla extract
2 cups spelt flour
1½ teaspoons baking powder
½ teaspoon baking soda
1 tablespoon cinnamon
½ teaspoon fine sea salt
¼ cup coconut oil, melted
2 cups shredded carrots
Pre-heat the oven to 350° F. Lightly grease a muffin pan. Prepare the flax egg by combining the ground flax seeds and warm water. Stir and allow it to thicken for 3 minutes. In a large mixing bowl, combine the almond milk, coconut sugar, vanilla, and prepared flax egg. Sift in the flour, baking powder, baking soda, cinnamon, and salt. Mix the batter until just combined, then mix in the coconut oil (doing this last prevents it from clumping). Fold in the shredded carrots. Transfer the batter to the prepared muffin pan, filling each tin to the top. Bake the muffins for 18-20 minutes, or until a toothpick inserted in the center comes out clean. Allow to cool completely.
Triple Dark Chocolate Waffle Cookies – 17 minutes
1 flax egg (1 tablespoon flax seeds, freshly ground + 3 tablespoons warm water)
2.2 ounces vegan dark chocolate, chopped
⅓ cup unrefined coconut oil, plus extra for greasing the waffle iron
½ cup coconut sugar
½ teaspoon pure vanilla extract
1 cup unbleached all-purpose flour
½ cup raw cacao powder
½ teaspoon ground cinnamon
¼ teaspoon fine grain sea salt
⅓ cup vegan chocolate chips
vegan powdered sugar, for decorating
Combine the ground flax and warm water and set it aside for 3-5 minutes to thicken.
In a saucepan over medium heat, melt the chopped chocolate with the coconut oil, stirring constantly. Remove the pan from the heat. In the bowl of a stand mixer, add the prepared flax egg, coconut sugar, and vanilla. Mix on medium speed for 5 minutes, or until the sugar mostly dissolves. Pour in the melted chocolate mixture, then sift in the flour, cacao powder, cinnamon, and salt. Mix until combined, then fold in the chocolate chips.
Heat the waffle iron until hot. Brush it with coconut oil to prevent sticking and spoon 1 cookie dough scoop (approximately 1 heaping tablespoon) of cookie dough onto the center of each waffle iron square. Close the waffle iron and cook through, about 1½-3 minutes depending on your iron. The tops should feel crisp and the cookies should easily pop out of the iron without crumbling. If they crumble, it's likely they need to cook a bit longer. Transfer the cookies to a wire rack to cool completely. Repeat with the remaining dough, making sure to brush the waffle iron with coconut oil before each batch. Dust with powdered sugar and serve.
Try some, or all, of these fast vegan recipes for on-the-go health. You may be surprised at the ease, flavor, and clean feeling of preparing plant-based recipes that just may make you feel much more healthy.