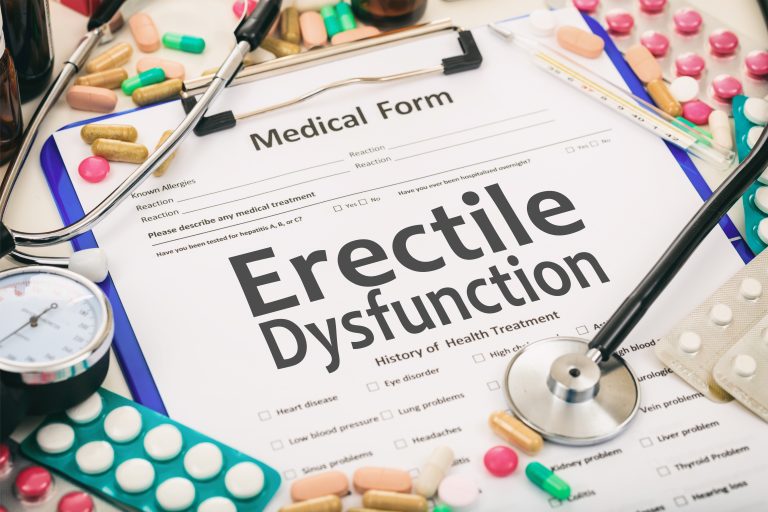 High and low voltage electrical stimulation referred to as extracorporeal shock wave therapy (ESWT) and low-intensity shockwave therapy (LiSWT) has been used by practitioners (doctors, physical therapists, licensed administrators) for years. It is applied to enhance healing in musculoskeletal, soft tissue, and tendinopathy compromises and has shown to reduce pain and promote rapid therapeutic reparation benefits, even after just one session.
Now, research is showing promise for use of ESWT for erectile dysfunction (ED). It may sound like a painful treatment to apply to a penis but studies are concluding some positive results and the application is described as non-painful and non-invasive. Best of all, the FDA has approved ESWT for home use with devices available without a prescription. 
Learn how shockwave therapy treats pain, speeds healing, and may help ED so you can get back on track to a higher quality of life.
The Shocking Truth
Contrary to the description of "shock" therapy, with ESWT there is no electrical charge felt. However, under the surface a significant change can occur. The Cleveland Clinic of Canada reported this list of high energy shockwave therapy which is administered by a licensed professional:
Mechanical pressure and tension forces on the tissue which has been shown to increase cell membrane permeability thereby increasing microscopic circulation and therefore the metabolism within the treated area. This promotes healing and may result in the dissolution of calcific deposits.
The pressure front creates behind it a "cavitation bubble" which are small empty cavities created behind a pressure front. When the bubbles collapse they create a resultant force that has a mechanical impact on the treated tissue. This force helps to break down calcific deposits embedded in damaged tissue.
Shockwaves stimulate osteoblasts that are cells responsible for bone healing and new bone production.
Shockwaves stimulate fibroblasts that are cells responsible for healing of connective tissue such as tendons.
Diminishes pain by two mechanisms. Hyper-stimulation anesthesia – local nerve endings are overwhelmed with so many stimuli that their activity diminishes resulting in short-term reduction in pain. Gate-control mechanism – whereby local nerves are stimulated to recalibrate perception of pain and result in longer-term reduction in pain.
Successful Applications
Since 1982 when ESWT was first used to minimize urinary stones, it has since been shown to reduce pain and assist in rapid healing for conditions that include:
Plantar Fasciitis
Achilles Tendonopathy
Retrocalcaneal Bursitis
Lateral Epicondylosis (Tennis Elbow)
Medial Epicondylosis (Golfer's Elbow)
Calcific Tendonitis (supraspinatus tendon, etc.)
Patellar Tendinosis (Jumper's Knee)
Morton's Neuroma
Chronic Stress/Non-union Fractures
The application is easy and painless. A 2018 study titled, 'Effectiveness and Safety of Shockwave Therapy' in Tendinopathies published in MateriaSocioMedica concluded that,
"Shockwave therapy significantly reduced the pain that accompanies tendinopathies and improves functionality and quality of life. It might be first choice because of its effectiveness and safety."
Erectile Assist
Recent studies are showing the use of ESWT for erectile dysfunction. Healthline describes the process which, as mentioned, is now available for home use. 
"Shockwave therapy is administered with a wand-like device placed near different areas of the penis. A healthcare provider moves the device along parts of your penis for about 15 minutes while it emits gentle pulses. No anesthesia is needed. The pulses trigger improved blood flow and tissue remodeling in the penis. Both of these changes can lead to erections sufficient for sex."
An archived study in Therapeutic Advances in Urology found that,
"LI-ESWT [low intensity-extracorporeal shock wave therapy" is a revolutionary treatment of ED, and probably possesses unprecedented qualities that can rehabilitate erectile tissue. The clinical improvement in subjective erectile function together with the significant improvement in penile hemodynamics following LI-ESWT confirm that LI-ESWT has unique properties that may create a new standard of care for men with ED. LI-ESWT is both feasible and tolerable and without any adverse or unwanted effects. Its main advantage is its ability to improve and potentially restore erectile function in men with ED without additional pharmacotherapy."
Recent news regarding ESWT for ED was posted in Renal & Urology News (1/8/21) which reported on a study by Egyptian researcher Hussein M. Adeldaeim, MD, of Alexandria University in Alexandria, Egypt, which stated,
"All patients [425] had 6 Li-ESWT sessions over 6 weeks. Patients received 6000 shocks at a frequency of 8 Hz at each session. Shock waves were delivered to 5 sites (dorsal surface, both sides, and both crus of the penis)…The cohort [group] had a baseline SHIM [Sexual Health Inventory for Men] score of 11.8 (range 5 to 20). Six months following Li-ESWT, 220 patients (51.8%) reported satisfactory sexual intercourse, with a SHIM score of 22 to 25 without the use of phosphodiesterase type 5 inhibitors (PDE5i)… At the 30-month follow-up, 168 (76.3%) of the 220 men still reported satisfactory sexual intercourse, with a SHIM score of 22 to 25 without the use of PDE5i, according to the investigators."
Overall, shockwave therapy is safe and effective for a multitude of applications. Talk to your doctor about how this natural treatment could benefit you.
Sources:
https://my.clevelandclinic.org/canada/services/shockwave-therapy
https://www.ncbi.nlm.nih.gov/pmc/articles/PMC6029898/
https://www.healthline.com/health/shockwave-therapy-for-ed#how-it-works