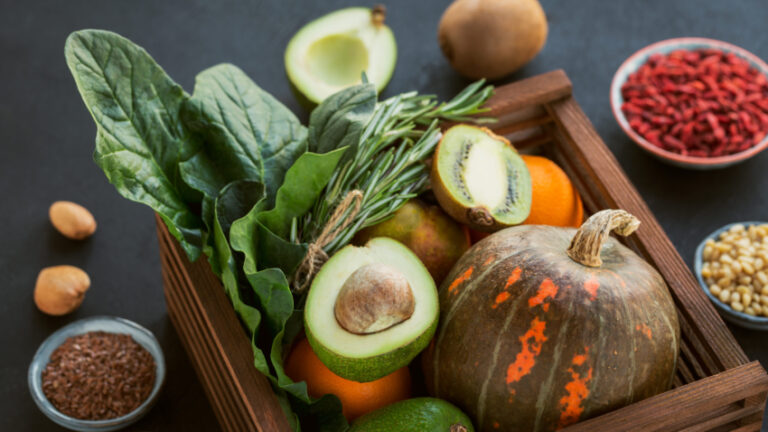 It is always fun to watch futuristic movies when the spaceship forcefield protects it from enemy fire. Colorful beams blasting across space only to be scattered in a fiery deflection as our hero ship returns fire to save the day. This is kind of what it might be like when we follow a healthy dietary protocol, shoring up our immune system to fight incoming pathogens.
As studies of specific dietary choices and how they affect health continue, the more we can utilize natural tools to build our own forcefield. When it comes to macular degeneration, kiwi, pumpkin and oranges are an excellent trifecta to charge up your protective shield.
Cosmic Kiwi
It is well documented that lutein and zeaxanthin are two powerful protective plant compounds found in the human eye. These carotenoids, parts of a plant that give it color, are able to absorb excess light. When these two carotenoids are lacking in the eye, this excess light can damage the retina and lead to age-related macular degeneration (AMD). Kiwi is high in lutein and zeaxanthin.
Yahoo Sports News reported that,
"In a study of over 100,000 individuals followed for 35 years, those who ate a higher-carotenoid diet lowered their risk of advanced macular degeneration (a leading cause of vision loss) by 25% to 35%."
Kiwi is also high in vitamin C, a well-studied antioxidant. When antioxidants are abundant in our system they scavenge for oxidative stressors that can lead to disease. This is particularly helpful when it comes to mitigating the elusive, currently incurable, macular degeneration.
Kiwi Recipes
These are two easy recipes from The Food Network to get more kiwi onto your plate and macular degeneration far away. Feel free to improvise, especially if you have specific dietary needs like vegan eating for instance.
Kiwi Mint Salad
Whisk 3 tablespoons lime juice with 2 tablespoons water, 1 tablespoon sugar, 2 teaspoons fish sauce [replace with vegan fish sauce] and 1 teaspoon sambal oelek [hot sauce] in a bowl. Refrigerate until cold. Toss with 4 diced peeled kiwis, 1 cup bean sprouts, 1/4 small thinly sliced red onion and 1/2 cup torn fresh mint; season with salt. Pile 4 cups Little Gem lettuce on a plate. Top with the kiwi mixture.
Chocolate Covered Kiwi Pops
2 kiwis, peeled and sliced into rounds
2 tablespoons coconut oil
8 ounces small pieces of chocolate (dark, milk or bittersweet)
Make a small slit on the side of each kiwi round and stick a craft pop stick in it. Place the kiwi pops on a baking sheet and freeze until solid.
Melt the coconut oil and chocolate over a double boiler of simmering water, stirring until melted. Turn off the heat.
Dip each frozen kiwi pop into the chocolate, letting the excess chocolate drip back into the double boiler. Place on a baking sheet lined with parchment paper. Place in the freezer until hard and crisp, 10 to 20 minutes.
Powerful Pumpkin
Whether you are a pumpkin fan or not there are many ways to enjoy this stupendous squash.
Pumpkin is rich in:
Vitamin A
Beta-carotene
Antioxidants
Magnesium
Zinc (seeds)
These nutrients have played a major role in preventing AMD. One archived study known as the Age-Related Eye Disease Study (AREDS) is continuously referenced. These and the effects of several other vitamins, minerals and phytonutrients were studied in preventing macular degeneration.
According to the Journal of the American Medical Association (JAMA),
"The Age-Related Eye Disease Study (AREDS) demonstrated that daily oral supplementation with antioxidant vitamins and minerals reduced the risk of developing advanced AMD by 25% at 5 years."
Pumpkin Recipe
With autumn around the corner, what better way to take advantage of the season while protecting your eyes from AMD than making some pumpkin recipes. This is a scrumptious snack courtesy of Country Living.
Pumpkin & Pesto Crostini
Ingredients:
4 c. peeled, sliced pumpkin or butternut squash (1/2 inch thick)
1/2 tsp. crushed red pepper
1/3 c. plus 1 1/2 tablespoons olive oil, divided
Kosher salt and freshly ground black pepper
1 1/2 c. packed fresh basil leaves
1 c. packed baby spinach
1 large clove garlic, chopped
2 tbsp. grated Parmesan cheese
2 tsp. lemon zest plus 2 teaspoons lemon juice
8 to 10 slices dark rye bread
4 oz. Burrata cheese, torn into small pieces
3 tbsp. chopped, toasted pecans
Preheat oven to 400°F. Toss together pumpkin, red pepper, and 1 1/2 tablespoons oil. Season with salt and black pepper. Bake on a rimmed baking sheet, stirring once, until tender and lightly brown, 25 to 30 minutes.
Combine, basil, spinach, garlic, and remaining 1/3 cup oil in a blender. Process, scraping down sides as needed, until blended and smooth, about 30 seconds. Stir in Parmesan and lemon zest and juice. Season with salt and black pepper.
Cut each bread slice into 4 pieces. Bake on a baking sheet until lightly toasted, 8 to 10 minutes. Top crostini with burrata, pumpkin, pesto, and pecans, dividing evenly. Season with salt and black pepper.
Orange Optics
It seems that children tend to eat oranges more often than adults. When it comes to healthy vision, adults may want to take notice on reconsidering more orange consumption.
A report of oranges and AMD by Express news UK stated,
"Researchers at the Westmead Institute for Medical Research interviewed more than 2,000 Australian adults aged over 50 and followed them over a 15-year period. The research showed that people who ate at least one serving of oranges every day had more than a 60 percent reduced risk of developing late macular degeneration 15 years later."
Orange Recipe
Oranges are a sweet refreshing treat and many recipes use them in sugar laden recipes. To get the most of oranges (and kiwi and pumpkin) is to stay as close to the raw version for optimal results when it comes to building to macular degeneration force field. This savory orange recipe comes from none other than the food guru herself, Martha Stewart.
Orange Fennel Olive Relish
2 Oranges
1/2 cup thinly sliced fennel
12 chopped oil-cured olives
1/4 cup torn fresh mint leaves
1 teaspoon extra-virgin olive oil
Kosher salt and freshly ground pepper
Grate 1 teaspoon orange zest, then remove peel and pith from oranges. Holding fruit above a bowl, use a small paring knife to cut between membranes and remove segments. Squeeze 1 tablespoon juice from membranes into a bowl.
Cut segments into bite-size pieces; add to bowl with fennel, olives, mint leaves, and oil. Season with salt and pepper; serve.
Build your macular degeneration forcefield with more kiwi, pumpkin, and orange in your diet. These colorful plant gems can be a real sight saver well into the future.
Sources:
https://www.newsbytesapp.com/news/lifestyle/5-benefits-of-kiwi/story
https://sports.yahoo.com/leftover-pumpkin-guts-100000857.html
https://jamanetwork.com/journals/jama/fullarticle/1684847
https://www.express.co.uk/life-style/health/1656195/eyesight-oranges-risk-macular-degeneration-symptoms
https://www.foodnetwork.com/recipes/food-network-kitchen/kiwi-mint-salad-6545086
https://www.foodnetwork.com/recipes/food-network-kitchen/chocolate-covered-kiwi-pops-recipe-2268684
https://www.countryliving.com/food-drinks/a33943615/pumpkin-and-pesto-crostini/
https://www.marthastewart.com/1554845/orange-fennel-olive-relish