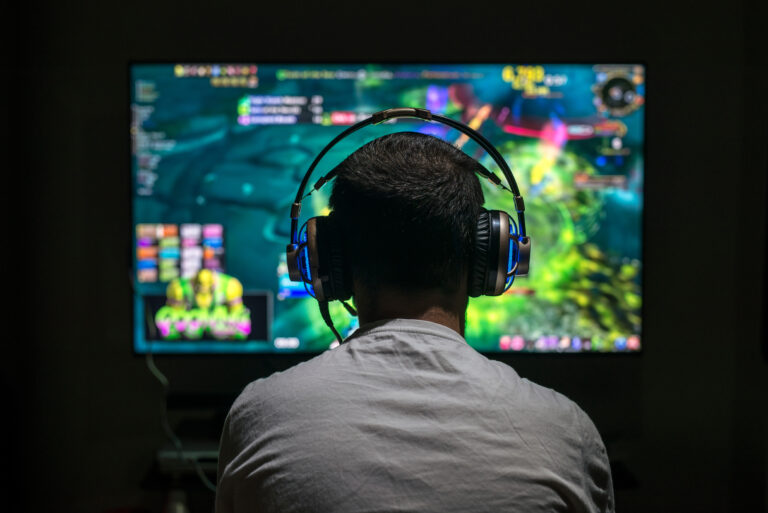 You may think of video games as a way to joyously pass the time or as time wasting nonsense but whichever your take, there may be another way to view these digitally dancing domains.
Recently, researchers have found a way to integrate special scanning technology into everyday video games and be able to detect possible signs of macular degeneration. Working with a local startup group, these researchers are the first to develop this groundbreaking technology. It is a program able to effortlessly pinpoint telltale signs of potential AMD (age-related macular degeneration) during video game play.
This technology is groundbreaking due to the fact that many people are diagnosed with AMD long after it has progressed to its deteriorating stage. AMD is the leading cause of optical disease with 22 million people predicted to be blinded by this disease by 2050. Although some inhibiting treatment can be applied at the late stage, being able to detect AMD at its early inception is paramount. This can allow for a better chance at slowing progression and can also buy time for possibly better treatment options or even a potential cure down the road.
Learn how scientists have found a way to detect macular degeneration by playing video games which could lead the way for other applications at getting people treatment before they even know they need it.
The AI Angle
Anytime someone mentions artificial intelligence (AI) you might immediately conjure images of machines taking over the world. AI is far from becoming a threat to the human race as scientists realize there is no way to replicate a variety of human elements. However, AI technology is becoming highly advantageous when it comes to scientific breakthroughs. 
When it comes to macular degeneration, implementing AI applications has shown great promise. From in-office ophthalmological tools and surgically implanted retinal prosthesis devices to visual assist applications in and out of the home, AI has been a significant benefit. This recent manifestation of AI detection for AMD just shows another way science can use computer programming to its advantage.
Hiddens Scans
Using optical coherence tomography (a noninvasive imaging technology used to obtain high resolution cross-sectional images of the retina) aka OCT scans, ophthalmologists can see the development stages of macular degeneration.
The American Academy of Ophthalmology describes OCT scans,
"Optical coherence tomography (OCT) is a non-invasive imaging test. OCT uses light waves to take cross-section pictures of your retina.With OCT, your ophthalmologist can see each of the retina's distinctive layers. This allows your ophthalmologist to map and measure their thickness. These measurements help with diagnosis. They also provide treatment guidance for glaucoma and diseases of the retina. These retinal diseases include age-related macular degeneration (AMD) and diabetic eye disease."
With OCT scans being the 'gold standard' for AMD detection, researchers out of Southern Methodist University (SMU) in Dallas, Texas started asking the question, "What if we could bring OCT scans to the general population without them even knowing it?" Although this question may sound kind of nefarious or like mad scientist machinations, it is actually an ingenious way to help millions of unsuspecting people at potential risk of losing their sight.
According to research from the Department of Ophthalmology, School of Medicine, University of Alabama at Birmingham titled, 'Prevalence of Undiagnosed Age-Related Macular Degeneration in Primary Eye Care' which was published in the journal JAMA Ophthalmology,
"Approximately 25.0% of eyes deemed to be normal based on dilated eye examination by primary eye care physicians had macular characteristics that indicated AMD…A total of 30.0% of eyes with undiagnosed AMD had AMD with large drusen that would have been treatable with nutritional supplements had it been diagnosed. Improved AMD detection strategies may be needed…"
By concealing vision detection technology into video games, hidden OCT scans can be carried out no matter the age. These hidden scans are able to detect anomalies throughout the user experience.
Eye in the Sky
Through data analyzation, researchers at SMU have developed a machine learning algorithm through millions of individual retinal images uploaded from a national database. These images have been placed into a specialized video game and remain at-the-ready to match up with any similarity of the retinas of the eyes playing that game. 
Titled, 'Eye in the Sky: Defender,' the game revolves around an immersive alien invasion that one must escape from. The current model takes about fifteen to twenty minutes to complete and produces higher accuracy measurements than an in-office OCT scan.
Dr. Corey Clark, the deputy director of research and assistant professor of computer science and engineering at SMU who helped develop the video algorithm technology, commented on one trial application,
"We were able to have a gamer who was a random person with no training provide results that were in line with trained clinicians that segment the images in a lab."
It is a human and AI collaboration that creates results, usable in real world applications. It is literally a game-changer which Dr. Karl Csaky, CEO and CMO at the Retina Foundation who collaborated with SMU and Johns Hopkins University confirmed,
"This technology could be a game-changer for researchers and drug manufacturers in the data analyzation of disease progression, drug trials, and treatment efficacy for age-related macular degeneration, among other diseases,"
Dr. Csaky and partners signed a10-year exclusive license to develop and commercialize the medical imaging technology to the $35 billion AI healthcare market.
It won't be long before this and other similar technology may find its way into your favorite video game, television, cell phone and more. It is a technology that will be a helpful tool to get people assistance before it is too late. Soon you could be playing video games that are considered a healthy thing to do rather than the mind numbing stigma it is currently attached to.
Sources:
https://www.aao.org/eye-health/treatments/what-is-optical-coherence-tomography
https://pubmed.ncbi.nlm.nih.gov/28448669/
https://www.smu.edu/News/2021/Research/Video-game-software-patented-for-age-related-macular-degeneration-research