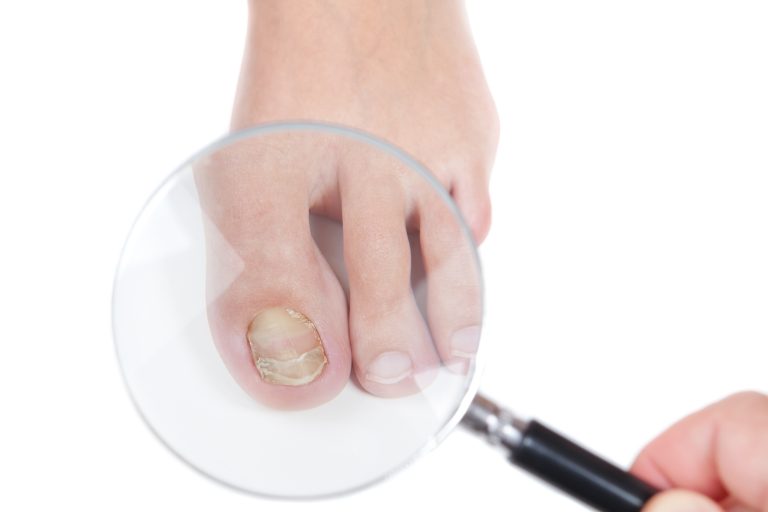 Toenail fungus has long been considered a tough condition to remedy without the assistance of conventional drugs or procedures. Using strong creams, pills, laser or even surgery can be wrought with side effects, painful recovery and sometimes fungus reappearance.
However, these 3 natural remedies for toenail fungus have been used by many people who report successful, long lasting results. Before you decide to plunk down your hard earned coin for a Big Pharma fix, try an alternative approach. These may be all you need to clear up your yellowing, fungal toenail malfunction and get back into open toed shoes without help from synthetic chemicals.
on-ee-ko-my-coh-sis 
Your body is covered with millions of harmless microscopic organisms that can sometimes be involved in a fungal reaction. This is the case with onychomycosis (on-ee-ko-my-coh-sis), one of the most common nail fungus strains caused by dermatophytes, a pathogenic fungus.
According to a study of dermatophytes by researchers from the Department of Dermatology, University Hospitals of Cleveland and Case Western Reserve University, Cleveland, Ohio, about 10% of the US population alone are infected. That's roughly 20-30 million people dealing with the same thing you may be challenged by.
The Mayo Clinic describes the most prevalent symptoms of nail fungus as,
Thickened
Brittle, crumbly or ragged
Distorted in shape
Dull, with no shine
A dark color, caused by debris building up under your nail
Other symptoms may include yellowing, pain, flaking or just an overall unhealthy appearance. If you notice even the slightest change in your toenail bed or around and under the edge, see your doctor. Then give one or more of these 3 natural remedies for toenail fungus a try.
Tea Oil from a Tree
Tea tree oil comes from a specific genus of tree that mostly grow in Australia and New Zealand. It has a strong, almost medicinal smell and possesses antimicrobial, antifungal, antiviral and anti-inflammatory properties making it a powerful remedy for onychomycosis.
Research from the Department of Dermatology, University of California, San Francisco carried out in 1999 is still referred to. The study cites results from topically applied cream that contained only 2% of melaleuca alternifolia (tea tree) oil.
The abstract stated,
"Sixty outpatients (39 M, 21 F) aged 18-80 years (mean 29.6) with 6-36 months duration of disease were randomized to two groups (40 and 20), active and placebo. After 16 weeks, 80% of patients using medicated cream were cured, as opposed to none in the placebo group. Four patients in the active treatment group experienced subjective mild inflammation without discontinuing treatment. During follow-up, no relapse occurred in cured patients and no improvement was seen in medication-resistant and placebo participants."
Tea tree oil can be applied with a soaked cotton ball or Q-tip, spray or cream twice per day for several months to a year and even several weeks after the fungus has disappeared to avoid regrowth. Test for skin or any other sensitivity before fully applying.
ACV
Apple cider vinegar is an all around remedy to keep in the cupboard. When applied to toenail fungus it acts as a de-alkalizer creating an inhospitable acidic environment for fungus. At the same time ACV has been shown to kill bacteria and other fungus such as dermatophytes.
ACV is obviously vinegar smelling so application consists of one part ACV and one part epsom salts mixed in six parts warm water for soaking, thirty minutes, twice per day. As an alternative or adjunct you can soak a cotton ball or Q-tip and apply directly to the toenail however be sure to let dry before covering.
Lavender Oil
The pungent, calming oil from the purple lavender plant is a remedy with a long history of medicinal and recreational use. This oil is a veritable superpower holding antiviral, antifungal, anti-inflammatory and natural antiseptic properties. In addition, application of lavender oil has been linked to increasing circulation and boosting the immune system, two factors that are often ignored when attempting to remedy toenail fungus.
It is essential to purchase pure lavender oil and not the essential oil of lavender. This is important because essential oils contain 'carrier' oils for aromatherapy applications not medicinal.
The pure oil is best when applied to a trimmed nail edge to ensure absorption into the skin although it can penetrate the nail but takes longer to reach the fungus. Many herbalists recommend mixing lavender oil with tea tree oil for a one-two punch that may speed up recovery.
There are many home remedies you can use to clear your toenail condition but these 3 natural remedies for toenail fungus may be the most successful. Give one or more a try for several months and you may very well see results sooner than later. Follow a strict application protocol while strengthening your immune system with exercise and a high protein, plant heavy diet at the same time.