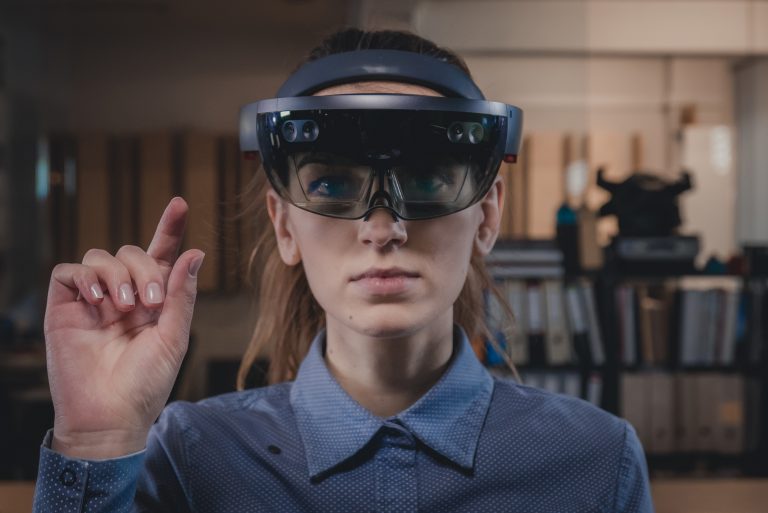 When it comes to navigating everyday activities, dealing with a physical or cognitive compromise can be very challenging. Many people do not have a daily support system to help them get through the things most of us take for granted. Macular degeneration, the slow deterioration of sight and number one incurable cause of blindness in the world, is a physical challenge that may be assisted through wearable technology. This can take the pressure off those that need it most.
Although scores of researchers across the globe are diligently studying ways to slow and hopefully cure macular degeneration, millions continue to struggle as they wait for treatment. The research road is becoming much more promising but until it succeeds, just like someone using a cane to walk or an audible mechanism to hear, a highly effective wearable AMD (age-related macular degeneration) device that just got approval may help. This device will allow greater independence and quality of life for those suffering with macular degeneration, AMD, and other challenging eye diseases. It is technology at its cutting edge best.
Embracing an Assisted Vision Device
It can take time adapting to an assisted vision device and some may not even want to make the effort. Certain designs can feel cumbersome or too difficult to function as well as cause self-consciousness or confusion. However, many that stick with it seem to reap some excellent results as these devices can significantly open a more independent visual world for those suffering with macular degeneration. 
GlobalNewswire reported,
"The speed at which wearable technology is developing and proving its utility in the healthcare space is raising a lot of eyebrows…technology is aimed at both improving surgery protocols and outcomes as well as assisting patients with low vision conditions such as age-related macular degeneration,…"
Recently, a company called eSight which has been developing a slimmer, more user-friendly wearable, obtained a CE marking approval. The European Commission describes the CE mark as,
"…assessed to meet high safety, health, and environmental protection requirements. By affixing the CE marking to a product, a manufacturer declares that the product meets all the legal requirements for CE marking and can be sold throughout the EEA. This also applies to products made in other countries that are sold in the EEA."
This approval is paramount for eSight which specializes in cutting edge vision enhancement platforms. It has already rolled out this approved wearable, called 'eSight 4,' in North America. The eSight 4 is the latest assistive technology device clinically proven to significantly enhance sight for those living with low vision and legal blindness.
eSight 4
As technology advances, more users embrace the many upgraded tweaks. The recent eSight 4 device advances from its previous model, the eSight 3. This previous model scored high marks for people, particularly one user that described the amazing freedoms in her testimonial to Web-RN which stated,
"eSight 3 is a quantum leap forward, even from the previous version of the technology that transformed my life 3 years ago. eSight 3 not only provides me with dramatically improved sight, it is much smaller, lighter, cooler looking and very comfortable to wear. I can wear it all day. I can even use its Wi-Fi and HDMI capabilities to stream digital content, or send pictures and videos. I simply cannot imagine my life without eSight 3."
Since the last model, more tech has improved the device as it crosses over to the next level.
Cision PR Newswire describes the eSight 4,
"The device works by combining a best-match camera and lens technology with advanced sensors and proprietary algorithms to maximize the quality of information sent to the brain, which in turn dramatically augments sight."
Other wearables are on the market, including several former designs by eSight, however this advancement includes a host of additional features that improves a user's independence even more, including:
24x zoom with auto-focus
More powerful software applauded by early users
Wireless vision controls
Rechargeable battery that is easily replaceable
Slim, comfortable, ergonomically designed halo band
Bioptic tilt to maintain use of natural peripheral vision
Cloud-based technology that can invite loved ones to see what the user is seeing
Cell phone apps to enhance smartphone screen in detail
The eSight 4 works for 20/60 to 20/1400 sight (perfect vision is 20/20). It can be applied to help navigate over twenty different eye conditions which include macular degeneration, diabetic retinopathy, and Stargardt's disease (juvenile macular degeneration).
Incoming Data
Not many studies have been carried out regarding user data of wearable devices. Some small cohorts have been investigated and the results, albeit mostly reported from fund biased research, show significant benefits.
Canadian researchers teamed up with American scientists for a study titled, 'The Effect of a Head-mounted Low Vision Device on Visual Function' which concluded,
"…immediately improved distance acuity (0.74 ± 0.28 logMAR), contrast sensitivity (0.57 ± 0.53 log units), and critical print size (0.52 ± 0.43 logMAR), all P < .001,…immediate improvements in visual ability, with face recognition and ADLs [Activities of Daily Living]…Overall, visual ability, reading, and visual information showed greatest benefit with device use."
The many technological adaptations for navigating macular degeneration show how empathy designed wearable devices, like the eSight 4, are becoming more of the new norm. Rather than struggle feeling around in the dark, embracing a wearable vision enhancing device could bring a world of capability and most of all hope, back into the lives of so many.
As this wearable AMD device gets approval, hopefully there will be a long list of more wearables, pushing the limits to get people back in the saddle and bring vision to those that lost it a long time ago. Either way, it is an adaptation that can keep patients from feeling isolated and finally be able to get them back into the flow of everyday, normal living.