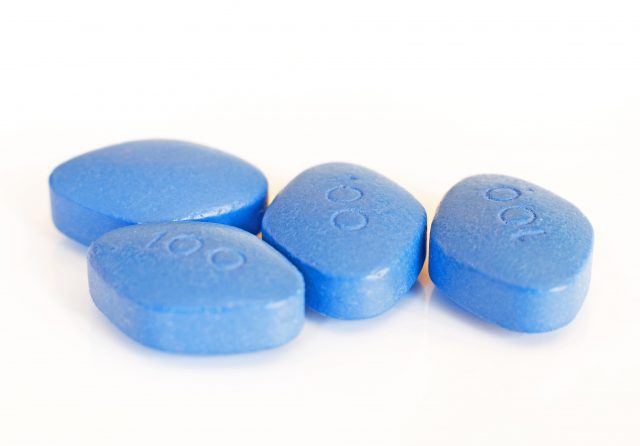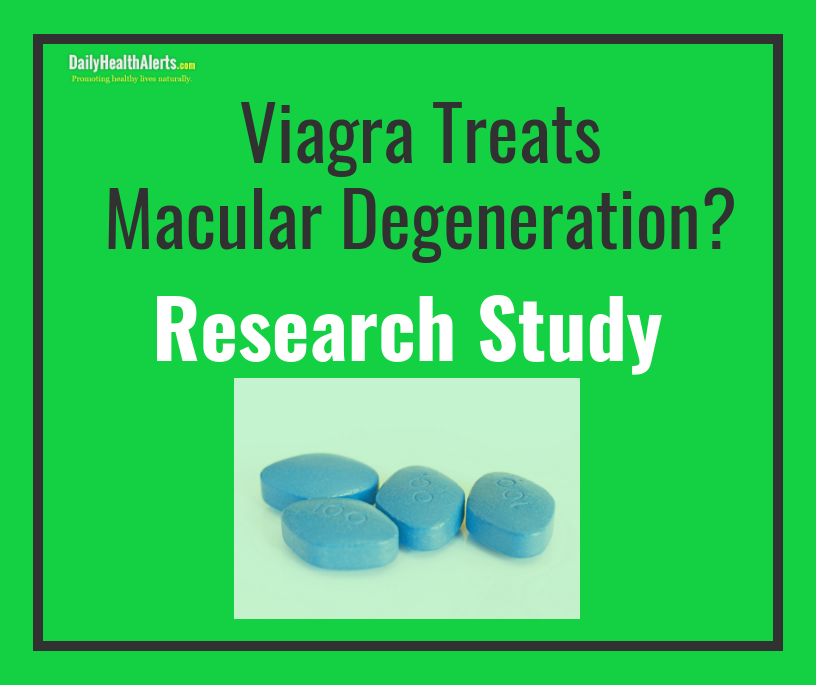 Originally developed to treat high blood pressure, the anti-impotence drug Viagra was discovered by accident. As the drug's intended use was rapidly failing, one trial on miners revived it into the erectile dysfunction drug we all know and love today. 
While interviewing a group of miners that participated in a clinical trial of Viagra, Pfizer chemist David Brown reported to Bloomberg News the moment it was realized that this drug could be used for another condition, 
Brown asked the miners,
"Is there anything else you noticed you want to report?"
 One of the men put up his hand and said, 
"Well, I seemed to have more erections during the night than normal" 
All the others kind of smiled and said, 
"So did we"
Now, another happy accident has occurred as recent research indicates that sildenafil, the active ingredient in Viagra, could halt age-related macular degeneration (AMD). 
Two Year Tracking
Researchers at Columbia University conducted a preliminary clinical trial on elderly patients  with AMD. The study group was given two Viagra pills per day for two years while the control group was given a same size, color, and form placebo aka a 'sham dosage'. Retinal and choroidal images were obtained at baseline (before pill ingestion) and one hour after ingestion. 
According to another study from 2017, published in the Journal of Ophthalmology, the analysis of participants between the ages of 18 and 40 showed that one hour after the pills ingestion, the outer retinal blood flow increased significantly in the study group. Overall, there was a prominent difference in central choroidal thickness and outer retina blood flow between both groups after just one hour of sildenafil ingestion. This was determined to be vasodilation (increased blood flow) due to Viagra, just as it affects the genitalia.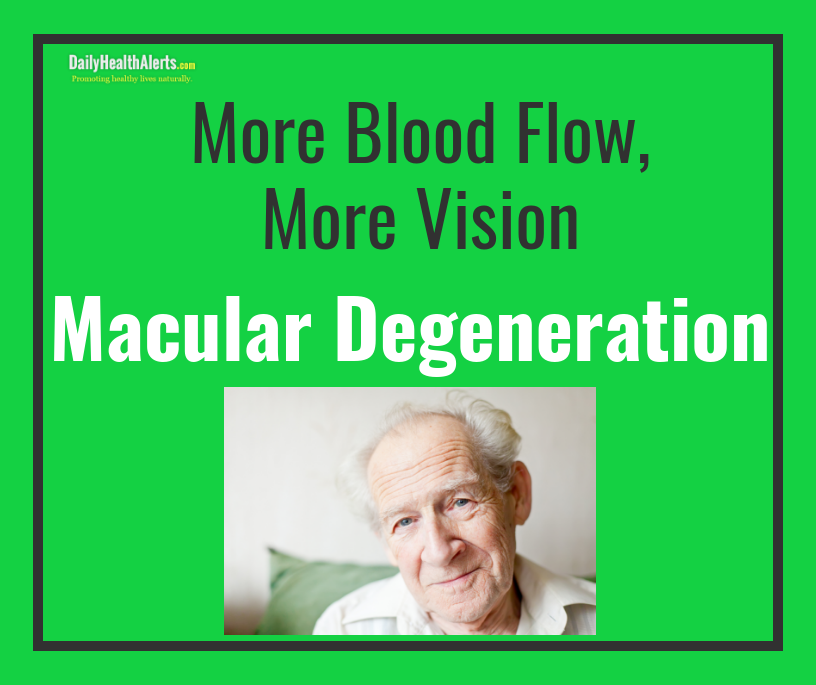 More Blood Flow, More Vision
Although there is no known cause or cure for macular degeneration, many studies have been conducted to find out why. Recent studies have also provided evidence suggesting that choroidal and retinal blood flow is decreased in patients with AMD. On the basis of these results, the hypothesis for this study was that lower choroidal blood flow is associated with an increased risk of choroidal neovascularization (CNV) in patients with AMD. Viagra may be able to prevent or in some cases even reverse this condition as blood flow is increased exponentially to the retina. 
The study in the Journal of Ophthalmology explains the technical presentation of how Viagra may benefit vision in its conclusion,
"The results may suggest that even with a local pharmacological effect of sildenafil, the vascular auto-regulation mechanisms of the retina and choroid may prevent a significant change in vascular hemodynamics, at least in the short term, ensuring a constant blood flow and preventing blood stagnation and ischemia [inadequate blood supply]."
It may come as no surprise but increased blood flow (vasodilation) is more often than not a highly beneficial aspect of health. This is particularly advantageous regarding the extremities (the intended target of Viagra) but it significantly enhances vision as well. 
In work by researchers at the Department of Clinical Pharmacology, Medical University of Vienna, Vienna, Austria which was published in Investigative Ophthalmology and Visual Science (8/10) it was purported and concluded that,
"Recent studies have also provided evidence suggesting that choroidal and retinal blood flow is decreased in patients with AMD. On the basis of these results, the hypothesis for this study was that lower choroidal blood flow is associated with an increased risk of CNV [choroidal neovascularization – natural formation of new blood vessels] in patients with AMD. The present study indicates that lower choroidal perfusion [blood flow] is a risk factor for the development of CNV in the fellow eye of patients with unilateral CNV."
Long Time Coming
Viagra has been used as a mainstream conventional treatment for over twenty years. These studies are the pinnacle of over a decade in the lab regarding Viagra's effect on the whole body as well as vision. Sildenafil was investigated by the Scheie Eye Institute, Department of Ophthalmology, University of Pennsylvania in 2005. The study, titled 'Effect of Viagra on Retinal Vein Diameter in AMD Patients' reported,
"In conclusion, our results show a statistically significant vasodilation of major retinal veins at 90, 180 and 300 min after administration of a 100 mg of sildenafil citrate in AMD patients. This effect is similar to what has been previously reported in normal subjects. Whether increased retinal venous diameters are associated with increased retinal blood flow in AMD patients and whether this effect may be of any therapeutic value are questions that need further investigation." 
Almost There But Don't Rule Out Herbal Treatment
Currently, Viagra seems to be getting closer to being transformed into a vision drug as well. Through dosage testing and a few more clinical trials, it could very well be on the market soon. 
In the meantime, you may want to look into some natural herbal remedies that, especially when accumulated over time, could support vision. One herb that may help enhance ocular circulation is gingko biloba. Research published in the Korean Journal of Ophthalmology concluded that,  
"GBE [Ginkgo biloba extract] can produce desirable effects on peri-papillary blood circulation, suggesting that GBE is a beneficial systemic treatment for NTG [normal tension glaucoma] patients."
Other herbal vasodilators include:
Bilberry

 

Cayenne

 

Butcher's broom

 

Olive Leaf Extract
Always check with your doctor before using any herbal treatment, especially if you are taking medicine. 
As researchers continue to work with these ingredients to rapidly and continually bring blood flow to vulnerable areas such s the retina, there may be hope yet for eradicating this vision robbing disease. As an adjunct, it is always recommended to maintain a high plant-based diet (if not exclusively) as well as a good exercise/activity regiment. This combination has continually been shown in study after study to ward off future disease, including macular degeneration.