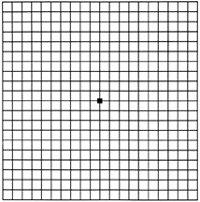 In an announcement today the FDA has approved a surgical device for bi-lateral end-stage  age related macular degeneration sufferers. The device, an implantable telescope, was developed by Dr. Isaac Lipshitz and is the only FDA approved device of its kind and is Medicare eligible. The device is by VisionCare Ophthalmic Technologies, Inc.
With the implant AMD sufferers who have been blinded in their central vision with black spots are seeing improved visual acuity and quality of life. Without the implant end-stage AMD places extreme limitations on one's life, often with the inability to drive, do generic household tasks, or even recognize family members' faces. As vision diminishes it can be accompanied by increased stress and even depression.
There is no other form of treatment that provides increased vision like this device for those afflicted with end-stage AMD.
"Despite all the great pharmacotherapy advances in AMD treatment, some patients will unfortunately progress to end stage AMD where their straight ahead, central vision is permanently blocked," said Dr. David Boyer, of Retina Vitreous Associates Medical Group, Beverly Hills, California. "Once end-stage AMD patients have lost their central vision, cataract surgery will not provide them with as much benefit to their quality of life as the telescope implant."
It is estimated that more than 15 million Americans aged 60 and older are suffering from age related macular degeneration. Sadly, these statistics make it the leading cause of blindness for this demographic.
"We are pleased and excited about this important FDA decision," said Allen W. Hill, president and chief executive officer, VisionCare Ophthalmic Technologies. "We developed the telescope implant to help older adults who've missed seeing moments in their life and lost much of their independence. Now, younger individuals, those age 65 to 74, will also have access to this important therapy for treating end-stage AMD."
While this telescope is providing great hope for thousands and improving the quality of life for those that have already received it, let's be clear that it is not a cure and like any medical implant comes with associated risks including decreased vision or corneal swelling.
This recent approval by the FDA expanded the availability of the implant to patients 65 or older and had previously been approved for patients 75 and older. The decision to expand the age span was based on findings from clinical data.
VisionCare Ophthalmic Technologies, Inc., headquartered in Saratoga, California, is a privately-held company. The company and its ISO 13485 certified and FDA registered manufacturing and R&D facility are focused on development, manufacturing, and marketing of implantable ophthalmic devices and technologies that are intended to improve vision and quality of life for individuals with end-stage age related macular degeneration.