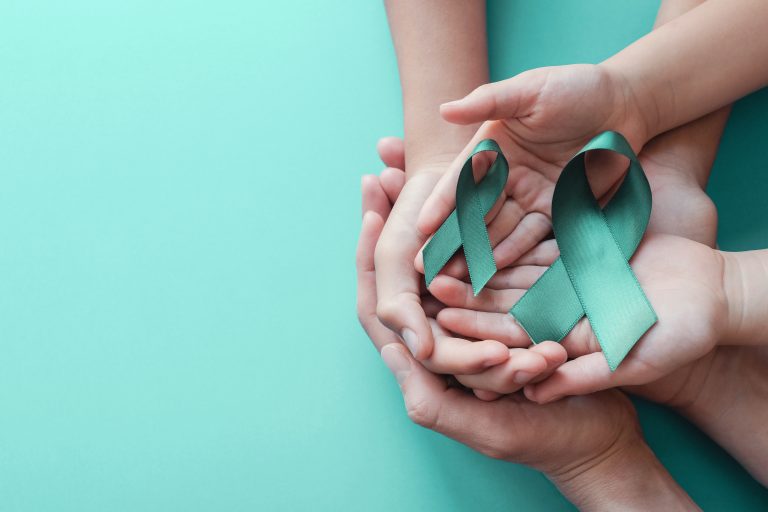 According to Medical News Today, a woman's chance of developing ovarian cancer is 1 in 78. Half who receive an ovarian cancer diagnosis are Caucasian and over 63 years old. Receiving this cancer diagnosis is more serious than other cancers due to the fact that most ovarian cancers are significantly developed by the time they are detected. 
David Cohn, M.D., a gynecologic oncologist and chief medical officer at The Ohio State University Comprehensive Cancer Center – Arthur G. James Cancer Hospital and Richard J. Solove Research Institute commented to Self magazine,
"Ovarian cancer is often diagnosed later in the disease progress, which leads to a lower rate of cure, this may be due to the fact that many of the signs and symptoms of early ovarian cancer may be hard for patients or their providers to recognize."
Now, it looks as though researchers have developed an early detection test for ovarian cancer. Add this new research to a change of lifestyle for natural prevention and such a combination is predicted to save many lives
From 22% to 90% Survival Rate
Published in the British Journal of Cancer (BJC – 8/7/19) a study titled, 'Diagnosis of epithelial ovarian cancer using a combined protein biomarker panel' is from collaborated research by scientists from the University of New South Wales Australia, University of Milan, University of Manchester and University College London. The study consisted of eighty participants that had their blood studied over a seven year period. The result is a new biomarker now able to be detected.
Most ovarian cancers are labeled epithelial ovarian cancer (EOC) as they are often detected mutating in the epithelial or protective covering around the ovaries. These cancers are often undetectable until they are in the third or fourth stage giving those diagnosed a 22% chance survival rate. Being able to identify a specific protein biomarker, researchers are able to predict EOC prior to current diagnostic time frame capabilities. This extra time puts a diagnosis at stage one which is considered a 90% 5-year survival rate.
Dr Bobby Graham from the School of Biological Sciences at Queen's University Belfast and lead author of the study explains to the Hippocratic Post,
"The algorithm designed will screen the blood sample and flag any abnormal levels of the proteins associated with the cancer. The screening test identifies ovarian cancer up to two years before the current tests allow."
Talk to your doctor about early detection ovarian cancer testing. In the meantime, practice some lifestyle changes to prevent EOC.
Preventing Ovarian Cancer
As science scrambles to research treatments and cures for ovarian cancer, there are some things you can do on your own. Woman's World reports on seven foods that are a good start to keep you on the offensive before you are forced into the defensive.
Ginger Candy or Not
According to researchers at the University of Michigan, gingerols are the active compound in ginger that has been shown to destroy ovarian cancer cells similar to chemotherapy treatment. The study used: two slices of candied ginger and one teaspoon fresh ginger or one-half teaspoon ground ginger daily.
Canned Tomato Juice
Harvard scientists have linked the powerful cancer fighting carotenoids (compounds that give plants color) of processed tomato juice to cutting ovarian cancer risk in half. The reason it needs to be processed (canned) is that the tough wall cells of the tomato plant are broken down during processing enabling the healing compounds to release.
Super Green-T
Yes, green tea is good for you, that's something you probably figured out but just to be sure, Swedish researchers conducted a 15-year study of the stuff. Turns out, 
"…women who sipped 16 oz. of green tea every day were 46 percent less likely to ever get ovarian cancer — and each additional cup they drank trimmed their risk another 18 percent."
Spicy Savior
Go with peppers of all kinds as they contain the carotenoid quercetin. This compound is linked to  supporting your liver for breakdown of carcinogenic risks. Try for half a cup per day. Other foods that contain quercetin include onions, capers, and unpeeled apples. 
Nutty Reduction
Nuts are proven to reduce inflammation. A study published in the Journal of the National Cancer Institute (JNCI) cites the reduction of developing ovarian cancer by 18%. Co-author, Tania Maffucci, PhD, commented,
"Tissue inflammation often fuels the growth of ovarian cancers and nuts are rich in inflammation-taming nutrients, such as magnesium and alpha-linolenic acid."
Dive Into Endive?
The obscure vegetable endive seems to hold a powerful punch. To be even more obscure it is Belgian endive that a study researched and published the results also in the JNCI. Endive contains kaempferol, "a substance that starves precancerous cells by cutting off the blood flow they need to grow, says study co-author Monique Mommers, PhD. Tip: Try slicing it into rings and tossing it into salads, grill it whole to bring out its sweetness, or use the leaves as "scoops" for fillings, such as egg salad or guacamole."
Get the Flax
Try a 38% reduction in developing ovarian cancer when you use just two table spoons per day of ground flaxseed. According to Woman's World, "The seeds are rich in lignans, compounds that protect ovaries from damaging estrogen surges."
Yes, you can take supplements and they may help. However, the chemical processes your body goes through to utilize natural, potent sources such as these is essential to ultimate benefits beyond supplemental delivery alone.
Be on the lookout for ovarian cancer detection screenings through your OBGYN or primary doctor. In the meantime, try adding these 7 natural prevention tips to your diet so you can get ahead of the curve.