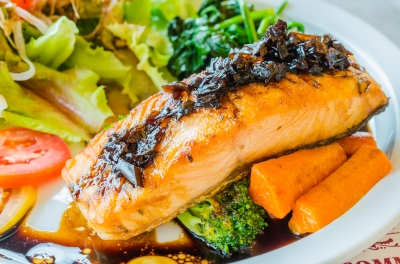 Could diet be the key to keeping your vision as you age? New research indicates that just may be the case!
Age related macular degeneration, or AMD, is the leading cause of blindness in men and women over the age of 55. The occurrence is expected to increase significantly in coming years as men and women live longer. AMD increases in risk as we age, but it does occur in younger adults as well.
There are two forms of macular degeneration, the dry form and the wet form, with the wet form being more severe.
Approximately 90% of cases are the dry form, which can come on over a period of years, while the wet form can cause blindness in as little as a few months. In the dry form of AMD, an area of the eye called the macula is covered with drusen, small fatty deposits which block central vision. In the wet form blood vessels leak fluid causing scar tissue. This scar tissue can make it impossible to read or recognize faces.
Currently the wet form is treated with injections into the eyeball, while the dry form is treated with high level antioxidants and vitamins.
Recent findings in the American Journal of Clinical Nutrition concluded that diet is of "utmost importance" in the fight against age related macular degeneration. In fact those that ate a diet rich in Mediterranean type foods, such as fish, vegetables, oils, and nuts, were 26% less likely to lose their eyesight.
For those who carried a gene that predisposed them to AMD their risk was cut by 33%.
In a 13 year study of 2500 participants performed at Harvard Medical School and Tuft's University, researchers concluded that the regular consumption of oily fish and vegetables best protected the eyes. It is believed that the Mediterranean diet helps slash the risk of vision loss by reducing inflammation.
One of the antioxidants that helps fight inflammation is Lutein. Lutein is found in many foods including kale, spinach, yellow peppers, and green leafy vegetables.
Researchers have known for years that Lutein can help fight age related macular degeneration as shown in the National Eye Institute's AREDS 1 and AREDS 2 studies, which concluded that a daily supplement filled with specific antioxidants and vitamins can help slow the progression of AMD.
It can be difficult to get the required amount of these crucial ingredients through diet alone, therefore, it is recommended to take a daily supplement to help protect the health of your eyes.
Lutein comes in different forms and it is important to note that the type of Lutein recommended by the AREDS 2 study is called FloraGlo Lutein. FloraGlo Lutein is more powerful and much more bioavailable than regular Lutein.
If you are currently taking a supplement for your eyes and it does not contain FloraGlo Lutein, you should strongly consider switching to a supplement that contains FloraGlo Lutein.
It is recommended to follow a healthy Mediterranean diet, get regular exercise, not to smoke or drink in excess, and to take a daily supplement to help protect the health of your eyes.
Next Article:>> Michigan Medical Doctor Diagnosed with AMD Creates Leading Eye Vitamin