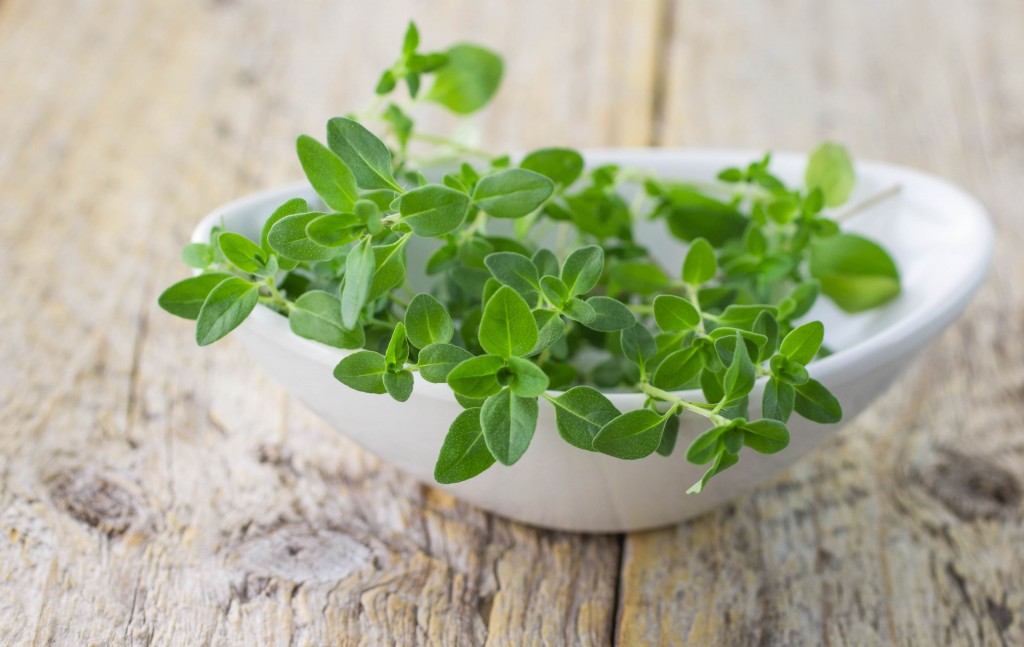 Thyme is a fragrant herb used in many savory dishes. It has also been used for centuries as an ancient healing remedy for a variety of ailments.
Several studies have shown thyme to compete with some of conventional medicine's more popular drugs including ibuprofen. This is due to thyme containing the compound thymol, one of a group of naturally occurring "biocides" which are compounds capable of destroying harmful organisms and reducing bacterial resistance to penicillin.
These 5 outstanding benefits of thyme show how a seemingly benign, aromatic sprig often used as an aesthetic, disposable garnish can be an unexpected powerhouse. Talk to your doctor before trying these remedies to make sure it is safe for your individual health history.
Menstrual Relief
A recent study of the topical application of thyme oil directly on to the abdomen of women challenged by menstrual pain shows relief equal to or better than ibuprofen.
Iranian researchers of Babol University of Medical Sciences conducted a small study of 84 women that used thyme oil for menstrual pain relief. The study resulted in a high percentage reporting less pain without the gastrointestinal side effects of ibuprofen.
A Teen's Best Friend
During the already vulnerable period of teen years, acne can be a debilitating condition. Not only is it unsightly but it can take many months to clear up. In addition to a more conscientious diet such as avoiding dairy, sugar, and processed foods, thyme may be an excellent peripheral tool.
A study presented at the Society for General Microbiology's Spring Conference in Dublin (March 2012), researchers from Leeds Metropolitan University found that,
"…thyme tincture had a greater antibacterial effect than standard concentrations of benzoyl peroxide – the active ingredient in most anti-acne creams or washes." (Medical News Today)
Parasite Pulverizer
Your body is made up of millions of organisms that yes, can include parasites. Thankfully most of these won't hurt you, but some may slow you down. According to Alternative Daily, Thyme is listed as one of several herbs that are capable of killing parasites.
Common signs of a possible parasite challenge can be:
Skin rashes especially around the anus
Fungal infections
Digestive difficulties
Headaches
Excessive cravings for sugar
The best way to use thyme as an antiparasitic remedy is by brewing a special tea. Add 1/2 a teaspoon each of dried thyme, rosemary, chamomile and a piece of ginger root into a saucepan of 3 cups of water. Bring mixture to a boil and then shut off heat and let steep for about 30 minutes. Strain residue (a cheesecloth works well) saving only the tea.
Drink 3 cups per day until you feel improved. You can check stool for possible worm parasites leaving your system.
Taking on Breast Cancer
Preliminary studies of using thyme in a combined medicinal formula for breast cancer treatment could be promising.
Research published in Nutrition and Cancer (Vol 64, Iss 8, 2012) titled 'Effects of Thymus serpyllum [thyme] Extract on Cell Proliferation, Apoptosis and Epigenetic Events in Human Breast Cancer Cells' stated that,
"In the present study, the first preliminary data on the effects of the methanolic extract of T. serpyllum in normal and breast cancer cells were obtained and suggest that T. serpyllum may be a promising candidate in the development of novel therapeutic drugs for breast cancer treatment."
High Blood Pressure Remedy
The results posted from several rodent studies of the effects of compounds extracted from thyme on high blood pressure (hypertension) have also been promising.
Published in the Journal for Hypertension (6/10 Vol 28 Iss p e496), a Serbian study stated that,
"Rosmarinic acid, the predominant phenolic compound of thyme extract (TE- Thymus serpyllum L.) possesses a broad spectrum of biological activities and is known as antiviral, antibacterial, antioxidant, antinflammatory and immunostimulating agent."
As a result, the study concluded,
"TE induces a normalization of arterial blood pressure and circulating level of TBARS, thus promoting rosmarinic acid, as an antihypertensive and antioxidant agent."
The research continues with a good chance that thyme may be one of the next important tools in fighting high blood pressure.
It is these 5 outstanding benefits of thyme that bring an obscure herb into the light for another natural, botanical fix that easily competes with other toxic, side effect riddled choices.