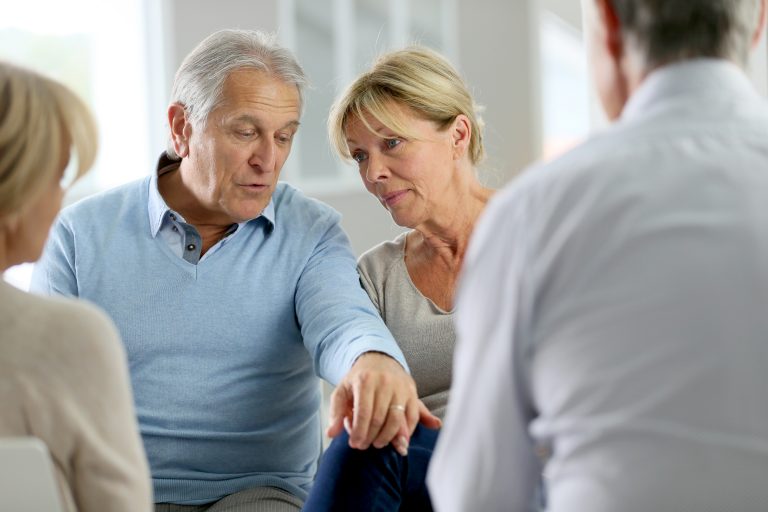 You may not be the type to sit in a support group however you may be missing out on one of the most important experiences of your life. Think about it. If you have you ever been part of a book club, a dart team at your local pub or even a knitting group sitting amongst people experiencing the same things you're experiencing can be a great thing.
The importance of macular degeneration support groups can be highly beneficial when it comes to sharing experiences to benefitting your health. Science agrees. Various studies that have researched the short and long term effects of macular degeneration support groups show positive results.
Before you decide to go at it alone or just rely on friends and family, these are some of the reasons being part of a macular degeneration support group may lift you up more than you realize.
Emotional and Practical Sharing
We have all seen the many film and television depictions of support groups. Usually it's a circle of chairs with a table that offers coffee and donuts. Someone inevitably cries or doesn't want to talk and it all seems like a dramatic mess.
A macular degeneration support group is about the disease and ways to cope with it rather than an addiction where people are trying to withdraw. Although it could get emotional for some, the many things discussed consist of highly useful information.
Below is some support group info that you may connect with either emotionally or practically. When it comes to macular degeneration or AMD (age-related macular degeneration) challenges see if any of these pique your interest.
Functional Limitations
One of the biggest concerns regarding secondary effects of AMD is the continued reports of low physical activity. Sure, who wants to go to a gym when trying to see is hard enough? However, there are many ways to enhance your health while living with AMD so your entire quality of life doesn't become compromised.
According to a cross sectional study titled 'Age-Related Macular Degeneration Is Associated with Less Physical Activity among US Adults,' published in the journal PLoS One (5/1/15),
"…adults with AMD are more likely to engage in unhealthy daily lifestyle movement patterns, underscoring the importance of promoting physical activity and reducing sedentary behavior among adults with AMD."
From the first signs of impairment to navigating with limited sight, sharing your functional limitations could prompt some surprising advice from others. Advice that could get you on your feet and into some physical, fun recreation which enhances mood and physical strength.
Adaptation and Independence
Many AMD support groups include various eye disease stages and levels. When it comes to the challenges of adapting to your degree of affliction there is sure to be one, if not many, support group members that bring tips, advice and resources to the table. 
Adapting can include ways you may not have thought of on your own which others might currently be using. This could be certain tools, exercises or even organizations you can utilize that encourage ease of living and access to independent mobility.
AMD support group recommended resources to enhance adaptation and independence might include:
Future Concerns
Struggling with macular degeneration, particularly AMD, could manifest hopelessness. Discussing with others these concerns not only offers emotional support but may inform you of current treatments in the pipeline as well as other macular degeneration assistance.
Progressive development and techniques for macular degeneration can be applied in a support group in a variety of ways. Sharing information is essential and with scientific research working at such a rapid pace, someone is always going to have some info.
Some research that might currently be discussed in a macular degeneration support group includes:
Prosthesis, such as synthetic retinas

Special glasses and lenses

Unique vitamin and mineral supplemental formulas
Accepting your diagnosis is often a slow process and discussing what you're going through might give you strength. Add in a room full of various levels of experience and there could be some good guidance to help you along.
Dealing With Red Tape
One of the most beneficial parts of being involved in a support group is learning from others who have already gone through the red tape of health services, insurance and medication, to name a few. Not only can it be daunting just to deal with insurance forms and phone calls, but knowing what to say can make your life a lot less difficult.
An article in the New York Times cites a scenario that could have been helped by being in a support group.
"Glenn R. Kantor, a lawyer in California whose firm focuses on insurance claims, said he represented a woman, blind from severe macular degeneration who was receiving benefits for home care. But when the representative from the insurer asked her if she could bathe by herself, the woman told the company she could as long as her aide led her into the shower and gave her soap and a washcloth. Shortly thereafter, the insurer cut off her payments."
Health insurance and many other "health care businesses" are usually not in the industry to give out money for care but would rather keep as much for themselves. No surprise there however being on the front lines with a team rather than yourself to help get the care you need makes a big difference.
Social Engagement
Studies show the significantly positive impacts of being involved in a social setting. For those with vision impairments like macular degeneration, even if you consider yourself anti-social, it can make your life feel like a lot less of a struggle.
The British Journal of Ophthalmology published the study, 'Impact of age related macular degeneration on quality of life' concluding that,
"The breadth of the impact of AMD on quality of life is wide ranging, encompassing not only tasks requiring good vision such as reading but also emotional health and people's ability to participate in leisure and other chosen activities."
A group can help with emotional support but could also get you moving in a new direction. It might include new friends and new experiences that incorporate vision weakness rather than shun it.
Topics of Interest
The other advantage of being part of a vision support group is the many discussions and lectures that may be of interest. WebRN lists a variety of topics that might be on hand for you to benefit from when attending a AMD support group.
These topics might include:
Living With a Low Vision Person

Using a Cane: Is it Right for Me?

Overcoming Challenges of Vision Loss

All About Glasses

Don't Let Low Vision Bring you Down: Coping with Depression, Anxiety and Anger

Summary of Research and Developments 2018

Sightseeing Without Sight

Update on Assistive Technology for Low Vision

Nutrition for Macular Degeneration
With topics like these you are certainly able to pick and choose what might work for you to get a grip on anything and everything to face your vision challenges. These are also great ideas for a support group you may be thinking of joining or are in already.
The importance of macular degeneration support groups has been embraced by many. With personal accounts as well as science backing it up, what it comes down to is strength in numbers; humans helping humans.
For More Information About How To Improve Your Vision Naturally Visit The Next Page Below:
Many studies have shown that research participants can improve their eyesight (without drugs or surgery).
However, the results of these studies go unknown to most doctors, so you won't hear about them by visiting your physician or eye doctor.
Special Vision Report >> 4 WORST Eyesight Destroying Mistakes Made by Macular Degeneration Patients When Using Eye Vitamins!