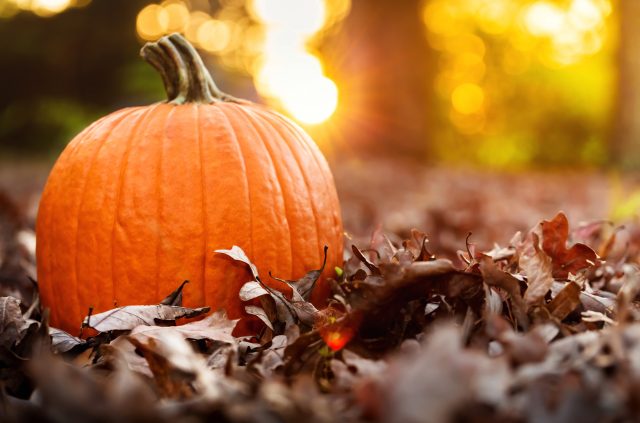 As each season changes into the next, boosting your immune system could save you weeks of coughing, sniffling, and aching. Taking vitamin, mineral, enzyme, herbal and probiotic supplements year round can keep your health in check. However, immune boosting recipes you can eat on a daily basis just may turn it up a notch. 
Appetizer/Snack
Try this season appropriate appetizer or snack made from pumpkin, which keeps your immune system in check with your blood pressure. The Daily Burn reported that, "Pumpkin seed oil is full of phytoestrogens, which research shows are beneficial for preventing hypertension. When researchers fed rats a diet supplement with the oil, they found that it helped lower both systolic and diastolic blood pressure in just 12 weeks."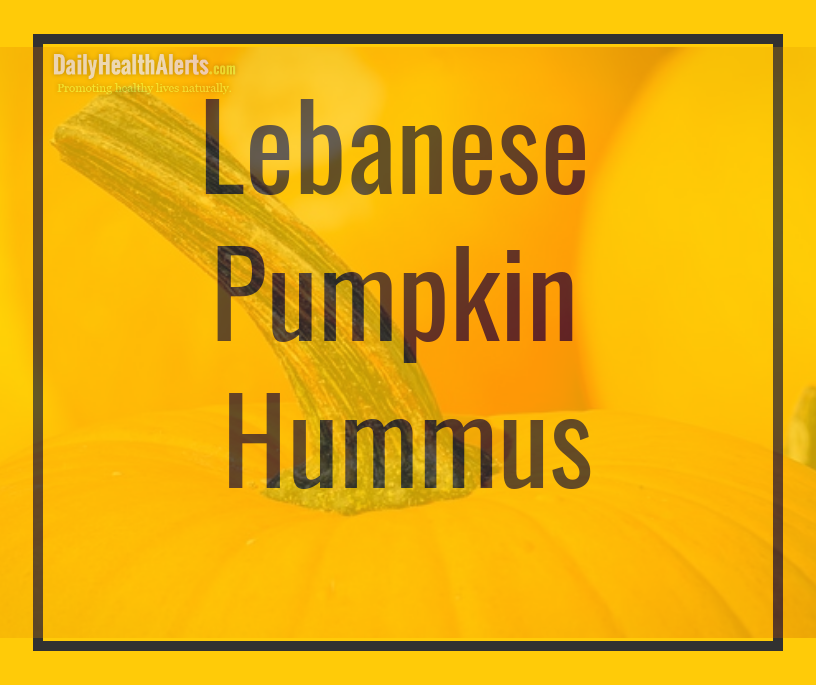 Lebanese Pumpkin Hummus 
Ingredients:
1 small firm pumpkin peeled and cored (try butternut pumpkin/squash)
2-4 tbsp lemon juice
1 garlic clove, pressed
1 tbsp tahini
salt and chili powder (optional, to taste)
olive oil, for roasting
fresh parsley
black and/or white sesame seeds
Heat up the oven to 425° F

 

Line baking tray with baking paper
Cut pumpkin into evenly sized pieces
Lightly coat with olive oil
Bake for 30 minutes
Transfer pumpkin to a food processor. Add tahini, pressed garlic, salt, chili, and lemon juice to taste, blend until smooth. If the paste is too thick, trickle in 1-2 tbsp of water to thin it out. Transfer the hummus onto a plate, smooth it with the back of a spoon. Drizzle with extra virgin olive oil or chili oil and sprinkle with sesame seeds and fresh herbs. Serve with toasted pita or sourdough bread.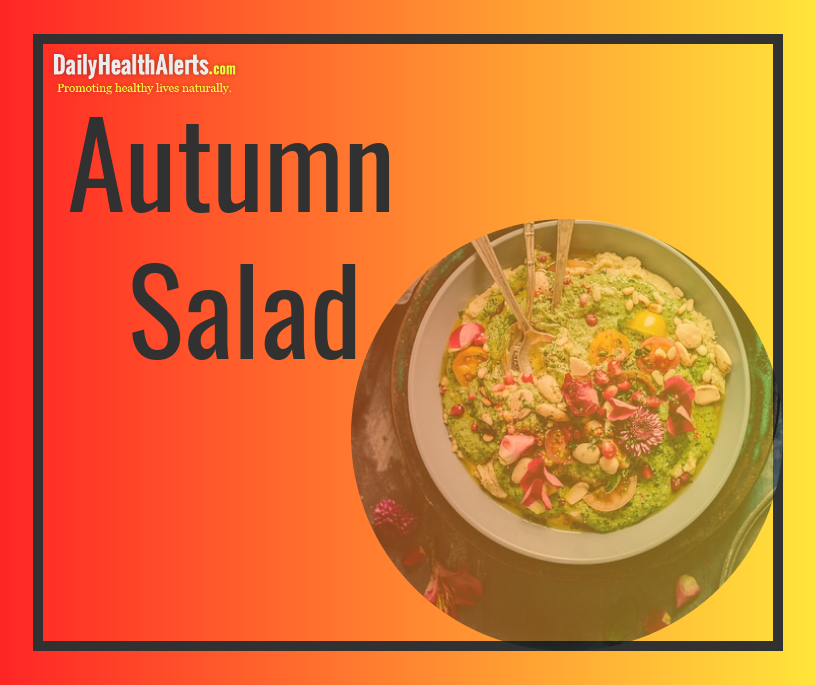 Autumn Salad
The end of summer doesn't have to mean the end of salads. This spinach salad is cock full of immune boosting properties that can really get you up to speed.
Published in Clinical Nutrition Research, Canadian researchers studied the immune boosting properties of spinach on the heart, 
"Overall, this study provides support to the potential use of whole food, un-concentrated dietary nitrate found in natural, commonly consumed vegetables like spinach, as an effective way to aid in maintenance of cardiovascular health."
Apple Cranberry Spinach Salad With Pecans, Avocados and Balsamic Vinaigrette 
Ingredients:
10 oz fresh baby spinach (about 10 cups of torn leaves)
1 Granny Smith apple, sliced
1 Gala apple, sliced
1 or 2 avocados, sliced
1 cup pecan halves
2 whole fresh mandarin oranges, peeled; or 1 can of mandarin oranges, drained
1/2 cup dried cranberries
Balsamic dressing
Chop 1/4 cup of pecan halves into smaller bites – set aside.
In a large bowl, combine all salad ingredients except for 1/4 cup of chopped pecan halves.
Drizzle the salad with balsamic dressing of your choice and toss.

 

Sprinkle chopped pecans on top of the salad.

 

Serve immediately.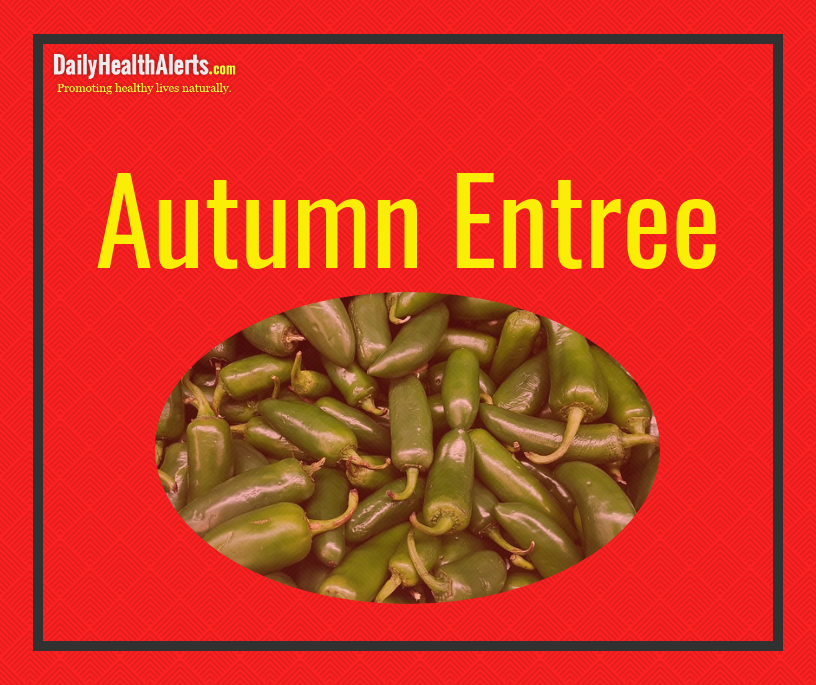 Entree
Try poblano peppers as an autumn immune boosting entree. They contain quercetin which one study published in the Journal of Natural Products stated, "Quercetin is known to have both antioxidant and antinociceptive [blocks the detection of painful or injurious stimulus] effects."
Stuffed Poblano Peppers with Black Bean, Corn & Sweet Potato
Ingredients:
5 large poblano peppers
1 (15 oz) can black beans, rinsed and drained
1 (15 oz) can sweet corn, rinsed and drained
1/2 cup diced yellow onion
1 small sweet potato
1 1/4 cups chunky tomato salsa
2 teaspoons chili powder
1 teaspoon cumin
1 teaspoon dried oregano
1 cup shredded cheese or veggie cheese
1/4 cup chopped cilantro, for garnish
Preheat oven to 350 degrees F.

 

Slice each poblano pepper in half lengthwise and place in small baking pan

 

Poke holes in the sweet potato and microwave on high for 4 minutes, cool cut into cubes
Mix together in a bowl and add black beans, corn, onion, sweet potato, tomato salsa, chili powder, cumin and oregano evenly into each poblano pepper half
Cover pan with foil and bake for 40 minutes or until peppers are fork tender
Remove foil, sprinkle cheese on each pepper and bake for another 5 minutes
Remove from oven and sprinkle with cilantro
Serve with guacamole and extra salsa, if desired.

 

Makes 10 poblano halves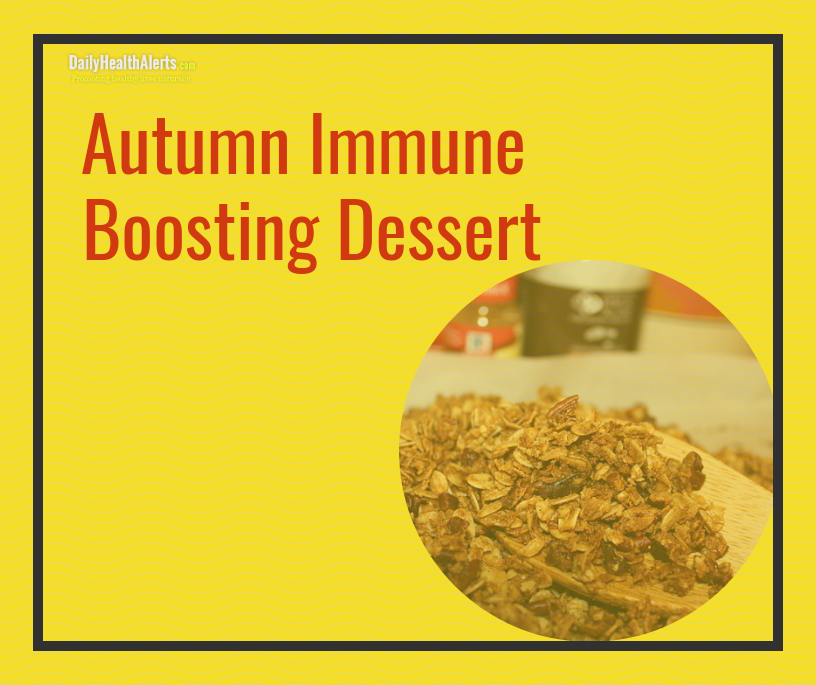 Dessert
There's always room for an immune boosting dessert complete with apricots, honey, rolled oats and flaxseed. According to a study published in the British Journal of Nutrition, "Dietary intake of apricot can reduce the risk of liver steatosis and damage caused by free radicals."
Apricot–Pine Nut Granola Bars  
Ingredients:
Olive oil cooking spray 
1/2 cup tart dried apricots, finely chopped 
3 tablespoons water 
1/2 cup raw wild honey 
1/4 cup extra-virgin olive oil 
1/4 cup packed light brown sugar 
2 cups old-fashioned rolled oats 
3/4 cup pine nuts 
1/2 teaspoon ground cardamom 
1/8 teaspoon salt 
1/4 cup ground golden flaxseed
Coat a 9-inch square baking pan with cooking spray

 

Line bottom and sides with foil or parchment; spray again.
Put apricots and water in a microwave-safe bowl; microwave on high until water is bubbling, about 1 minute. Stir well to ensure apricots evenly absorb water and soften while they cool.
Combine honey, oil and sugar in a large saucepan and cook over medium heat, stirring frequently, until sugar dissolves and mixture starts to bubble, about 5 minutes.

 

Add oats, pine nuts, cardamom and salt and cook, stirring constantly, until oats and pine nuts are golden brown, 3 to 5 minutes.

 

Remove pan from heat and fold in apricots and any remaining liquid and ground flaxseed until evenly distributed.

 

Immediately transfer mixture to prepared pan and spread in an even layer.

 

Using a spatula, press mixture firmly and evenly into pan.
Let mixture cool completely in pan on a wire rack.

 

Lift bars out of pan using sides of foil or parchment.

 

Cut in half, then cut into eighths crosswise to form 16 bars
These immune boosting recipes for fall are just a small example that eating smart food can be healthy and delicious at the same time. Try these recipes and then come up with your own that contain plant-based, high antioxidant, body rich ingredients so you can't the ground running on all cylinders this autumn.