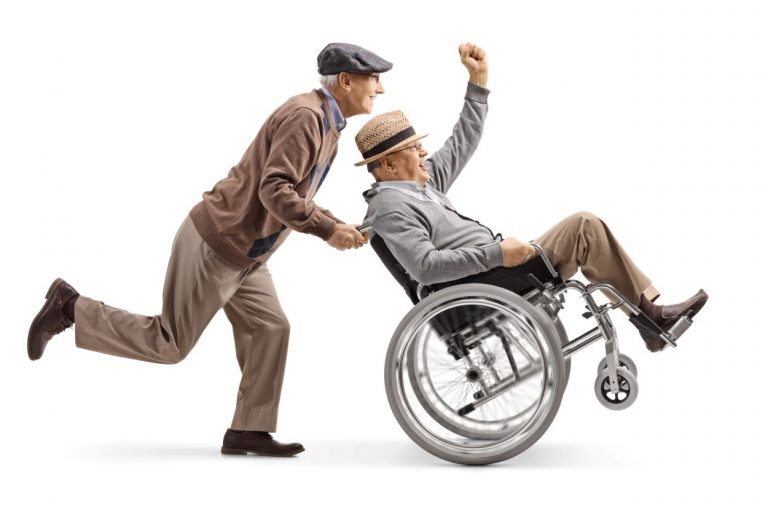 Mobility limitations should never stop you from moving according to your own will. The market is evolving day by day, and by virtue of this evolution, there are plenty of mobility aids that can serve your exact demands. Among many such mobility products, the most preferred one is an electric wheelchair. There are many options when it comes to choosing a wheelchair. Either it is comfort, power, or customization, one can never run out of options to make a selection. Though this very quality often turns out to be a stressful factor. Making a selection of wheelchair for your grandparent might seem to be an easy task, but the moment you see a plethora of choices with different tools, your choice starts wavering.
Different models of wheelchair offer different functionalities. There are plenty of factors that one must consider before buying an electric wheelchair, and especially if the wheelchair is for a senior citizen. The best option can greatly improve the lifestyle of its users while giving them the freedom to move on their own. The correct chair will satisfy both the user and caregiver's demand, which is why picking the accurate wheelchair is essential. The process can be confusing, but all such concerns are just an informative piece away to break down. In case, you too are making a wheelchair purchase, here is how to choose the right electric wheelchair for senior citizens.
Important aspects to consider before getting an electric wheelchair
The traditional wheelchairs are in the run for a long time now, though, with the help of evolving technology, the electric wheelchairs are slowly replacing it for good. Electric wheelchairs are well-equipped devices that fulfill several functions.
If you have limited mobility, a wheelchair can easily improve your quality of life by helping you to continue to be active and do the regular things you enjoy.
In order to obtain the best use of a device as such, there are a few factors that one must consider before or while getting an electric wheelchair.
Places to use the electric wheelchair:
The place of usage plays a significant role in deciding the type of wheelchair to choose from. If the usage is primarily indoors, then opt for a small-framed electric wheelchair while, if the user dedicates more time outdoors, then you might want to select a 4 wheel electric scooter. The four-wheeled scooter has a larger frame that offers balance for mobility outdoors, while small frame wheelchairs are a better option for indoors. Observe the schedule of the future user of the electric wheelchair to understand which one will perfectly fit their routine needs.
Seat and its cushioning:
A majority of senior citizens have trouble related to body posture, joint pain, and back pain, but the moment it accompanies the inability to move, the issues double up. An electric wheelchair can have all the functionalities installed, but the lack of comfort can make it completely worthless. Senior citizens require extra protection when it comes to mobility, and nothing can match the safety of a well-cushioned wheelchair. While making a selection, analyze the aspects of ease in a wheelchair according to the user's preferences that might include seat material, height, or thickness.
The texture of the cushioning is also what you must consider when buying an electric-wheelchair for elder people, as sitting on a poor-textured wheelchair for long hours can cause problems to both the skin and body. Consider the ones that include a comfortable head and footrest.
Space for storage:
If we are investing in a device that allows freedom to its users, then it should also provide a storage compartment for them to carry their goods wherever they wish. If an electric wheelchair using senior citizens requires space for storing medical assistance tools such as oxygen transporters or crutches, then there should be a dedicated storage compartment available. Storage spaces make it extremely convenient for users to carry their needed goods with them while refusing the need to ask for it from someone else over and over again. Electric wheelchairs often include storage spaces though you can also customize them according to requirements.
Choosing a brand that is well-known in the market comes in handy when storage is of your concern. With the models of popular brands, it is highly likely that you will find side-attachments like baskets or mobile holders or even attachments to move shopping carts along the side.
Portability and convenience:
A portable wheelchair reduces all sorts of hassle, especially during long traveling plans. If the user has to travel very often, then a foldable wheelchair can be very convenient to carry around the trip.
Both manual and electric wheelchairs offer foldable alternatives. Knowing the terrains on which this wheelchair would regularly move is also crucial when choosing a wheelchair. The quality of the wheels used, and the sturdy frame of the wheelchair is something that one should consider when buying a wheelchair for elders. One thing to keep in mind while buying is that a foldable wheelchair for sure, is safe though it still is not as robust as a wheelchair with a fixed structure.
Types of wheelchair
Considering the ever-changing needs and demands of the customers, manufacturers are working hard to keep up with the requirements. The growing demand is serving as the reason for flooding the market with different varieties of wheelchairs. There are more than just one or two types, with each one being capable enough to waver your mind with its functions. Each of the types serves as many purposes as there are concerns, and in case it fails to do so, you always have the option of customization. Have a look at some of the best wheelchairs.
Heavy-duty electric wheelchairs:
As the name suggests, heavy-duty electric chairs are wheelchairs that accommodate people of larger body frame and structure. Extremely tall or healthy people do not usually find an appropriate match for themselves, which is when this one variant comes to the rescue. The structure of a heavy-duty wheelchair is sturdy, as it has to carry the weight of a heavy person, it also is a little heavier than usual wheelchairs.
Although traveling with a heavy-duty wheelchair can get tricky or not extremely convenient, though it offers more support and balance than the rest of the varieties. Heavy-duty wheelchairs have anti-tip features while it is also adjustable. It is an option worth reckoning if sturdy equipment is what you are looking for. A heavy-duty wheelchair is ideal for you if you are planning to move on tough terrain now and then, and are looking for a long-term option.
Travel electric wheelchairs:
A travel wheelchair is the latest version of a mobility chair that offers both portability and convenience while traveling. These types of wheelchairs have a small frame that is lightweight and robust. It offers an easy turning radius, which allows the chair to rotate swiftly in even the extremely congested corners of the house. As much as the chair is easy to use and convenient, it also permits the risk of losing balance. The small structure of the wheelchair might make it efficient for a while, but it also has its con. Senior citizens with smaller body frames can choose this type of electric wheelchair.
Ideally, you must look for an electric wheelchair for travel that has extremely good battery life. It is an understandable feature that one must look for as you would never want a wheelchair user to run out of power in their wheelchair and left with no help to move. One solution to this issue, if it worries you, is to use hybrid-electric chairs that are meant to be used manually as well as with power.
Reclining wheelchairs:
Reclining wheelchairs work similarly as a comfortable recliner that allows you to recline on it, but with wheels. This type of wheelchair is preferably for senior citizens who wish to acquire treatment at the wheelchair, suffer from sores, have back pain, or solely want to be relaxed, while resting comfortably. Reclining a wheelchair is different than regular ones as it provides more stability and comfort with the ease of mobility. If the user has a severe back injury, this wheelchair ensures even distribution of weight due to relaxing positions that might help a lot to ease pain and discomfort that regular wheelchairs might trigger.
The reclining wheelchairs are ideal for elder people with posture issues and if they have problems even with lifting their upper body weight by themselves. Switching to chairs or sofas at home is something that one need not worry about when using a reclining wheelchair as it cuts down the need to move on anything else with the comfort it provides.
We understand how you wish to give the best to your loved ones, which is why choosing the right device is essential. Take all your time to go through the details. Make sure it sits well with the demand of the user, your own convenience, and the budget too. Get ramps installed at your house and see your loved ones wandering all around the house on their electric wheelchair with the utmost ease!