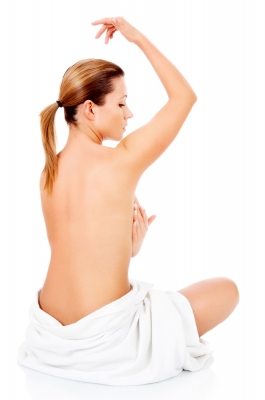 The chemicals you are exposed to every day could put you at a significantly high risk for breast cancer. Researchers have linked 17 groups of commonly used chemicals with the development of mammary tumors in rats, further proving the link between carcinogenetic agents and hazard they have on human health.
Published in the journal Environmental Health, the new study by researchers at the Silent Spring Institute found that gasoline and other vehicle exhaust, flame retardants, stain-resistant textiles, paint removers, and disinfection byproducts in drinking water caused breast cancer in lab rats and could therefore do the same in women.
"The study provides a road map for breast cancer prevention by identifying high-priority chemicals that women are most commonly exposed to and demonstrates how to measure exposure," research director of the Silent Spring Institute and author of the study, Ruthann Rudel said.
The biggest mammary cancer causing carcinogens in our environment are gasoline and chemicals such as benzene and butadiene, which are formed by combustion. These can be found in your car, cigarettes, and even charred food. Every day we fuel our cars to come home from work, grill some steaks, and even may de-stress with a cigarette. While smoking is the leading cause for lung cancer, these other sources of carcinogens are also polluting our air and bodies, and could be slowly harming you.
Women pile on beauty products that contain synthetic chemicals that have been linked to cancer. These chemicals—which are commonly used to clean industrial equipment and stabilize pesticides—are exposed into not only your skin, but also the environment, as the rates of breast cancer continue to rise.
"Unfortunately, the link between toxic chemicals and breast cancer has largely been ignored. Reducing chemical exposures could save many, many women's lives," co-author of the study, Julia Brody stated. "Every woman in America has been exposed to chemicals that may increase her risk of getting breast cancer."
Breast cancer is the leading cause of death of American women aged in their late 30s to their early 50s.  You could be at risk for breast cancer if the disease runs in your family, if you have gained weight, especially after menopause, if you do not get enough exercise, and if you frequently drink alcohol and smoke cigarettes. Combination hormone replacement therapy and combination contraceptives could also put you at risk.
The toxicology results from the study showed the chemicals caused cell mutations and increased mammary tumors in the rodents after exposure to many chemicals used in industry and consumer products and found in air and water.
"Although the strength of the evidence linking these chemicals to breast cancer varies, most of them also show evidence of genotoxicity and tumors at other sites, strengthening the case that they may be carcinogenic in humans," researchers stated in the study.
The study recommended seven ways you could avoid these cancer-causing chemicals:
•    Avoid overexposure from car exhaust or generators, and don't leave your car running when not driving. Instead of lawn maintenance equipment that are fueled by gas, opt for electric-powered options.
•    Always use a fan when cooking and limit the burned and charred food you cook for yourself and the family.
•    Never buy furniture with polyurethane foam.
•    You should also refrain from buying stain-resistant rugs, furniture and fabrics.
•    Use PERC (perchloroethylene) free dry-cleaner, and ask for "wet cleaning."
•    Always drink carbon-blocked water that has been filtered.
•    Take your shoes off at the door to avoid chemicals from making a house inside your home. When cleaning, vacuum with a HEPA (high-efficiency particulate air) filter. Clean with wet rags and mops.
"This information will guide efforts to reduce exposure to chemicals linked to breast cancer, and help researchers study how women are being affected," Rudel stated.
The Avon Foundation, the leading corporate supporter of breast cancer prevention and treatment, funded the study conducted by scientists who focus on the environment and the impact on women's health. In 2013, the Avon Breast Cancer Crusade raised and donated more than $815 million to breast cancer programs globally.
According to the American Cancer Society, the global economic cost of disability and death caused by breast cancer is $88 billion per year.
"This list and these tools of measurement methods can help direct programs to look for exposures that may be really important for breast cancer," Rudel said. "Who is highly exposed, are there certain occupations, are there certain age groups, and certain parts of the country?"
The National Institutes of Health plans to use the study's recommendations on 50,000 women in its study on the causes of breast cancer.
Image courtesy of marin / FreeDigitalPhotos.net