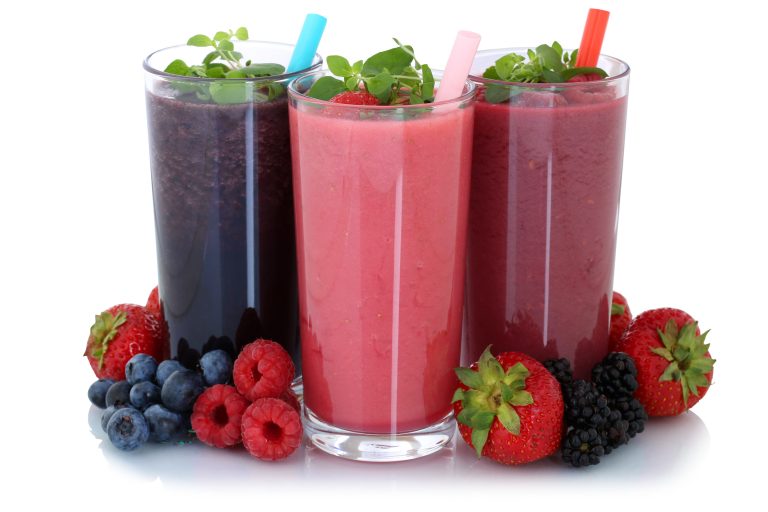 Sometimes staying healthy can taste good too. If you like smoothies or were curious about starting to implement these blended concoctions into your daily menu, why not try some health enhancing recipes.
Unfortunately, many store prepared smoothies that advertise good intentions such as ingredients that include antioxidant rich greens and colorful fruits also include high sugars, heavy dairy, and unnecessary fats. Before you know it you often shell out a lofty price for basically a high sugar, high fat dessert that packs on the pounds. Take control of your smoothie intake and choose your contents wisely by meshing fresh, clean taste with medicinal eating.
These 7 body boosting smoothies are backed by good science and tasty combinations . They are combos meant to keep your system running optimally and to hopefully avoid the numerous, potentially pathogenic slings and arrows you are exposed to on a daily basis.
Kicking Up the Immune System a Notch
It's either cold and flu season, allergy season or the weather is fluctuating so much you never know how your body is going to react. These immune system enhancing smoothies encourage your body to fire up all its cylinders and battle whatever comes its way.
Watermelon Mint Mashup
Lycopene is abundant in watermelon and is a powerful antioxidant linked to protecting cells against pathogens. Mint touts menthol, a natural decongestant which assists in reducing phlegm and mucus so you can breathe again.
Ingredients:
2 cups Swiss chard, stems removed
¼ cup fresh mint, stems removed
2 cup chopped watermelon
2 cup chopped mango
Juice of ½ lime
Blend Swiss chard, mint, and watermelon until smooth.

Add mango and lime juice and blend again.

Makes two servings
*Recipe courtesy of Prevention
Kid's Corner Cure
Keeping your kids healthy is essential for any season, especially when they are swirling in a petri dish with other kid's germs at school. This smoothie hides super antioxidants in a tasty concoction of sweet berries that will have your kids asking for more.
Ingredients:
2 cups pomegranate juice
2 cup, chopped kale
2 cup mixed berries, frozen
2 tablespoons flaxseed, ground
Blend all ingredients in a high powered blender until smooth and serve.

Makes two servings

Don't tell kids what's in it
*Recipe courtesy of Super Healthy Kids
Inflammatory Fighting Elixirs
Nature offers a wide variety of fruits and vegetables capable of supporting the body to switch into anti-inflammatory mode. Before you reach for an over-the-counter (OTC) or prescription medication to quell aching joints or overused muscles, try some of these anti-inflammatory elixirs first.
Banana-Spice Joint Relief Delight
Ginger is the key ingredient here as it has been linked to reducing inflammation while aiding digestion at the same time.
Ingredients:
2 cups spinach
2 cups unsweetened coconut milk
3 bananas
1 piece (½-inch) fresh ginger, peeled
½ tsp ground cinnamon
⅛ tsp ground cardamom
Blend spinach and coconut milk until smooth.

Add bananas, ginger, cinnamon, and cardamom and blend again.

Makes two servings
*Recipe courtesy of Prevention

Anti-Inflammatory Turmeric Smoothie
Turmeric is the poster herb for all things ant-inflammatory. Study after study shows the amazing benefits of this bright orange root. ABC News reported on a Professor Manohar Garg, director of the nutraceuticals research program at the University of Newcastle who commented on curcumin, the healing compound in turmeric,
"Curcumin is a very powerful anti-inflammatory agent, It's very powerful, the most powerful food I know of, for fighting inflammation in the body"
Ingredients:
1 cup frozen pineapple
1 cup frozen mango
1-1 1/2 cups cold water
1 teaspoon coconut oil
1 teaspoon peeled, chopped fresh ginger
1 teaspoon turmeric paste (recipe below)
Turmeric paste:
1/4 cup turmeric powder
1/2 cup water
3/4 teaspoon black pepper
Mix the turmeric and water in a pan over low heat, stirring until a paste is formed.

Once you have a paste, stir in the black pepper.

Cool and store in a glass jar in the fridge for up to 2 weeks.
*Recipe courtesy of Happy Healthy Mama
Brain Blasting Brews
Maybe you have an important meeting in the morning or just need to clear the cobwebs from the night before. These brain blasting brews get you up and running to enhance focus, stamina and problem solving.
Mango-Avocado Smart Power Smoothie
You wouldn't think an avocado would blend but with its high vitamin E content, a major player in preventing Alzheimer's disease, it mixes well. Omega-3 rich spinach supports brain power too and encourages iron production. More iron, means more oxygenated blood which means more focus.
Ingredients:
1/2 fresh mango
1 cup fresh spinach
1 cup chilled low-fat vanilla soymilk
1/4 avocado
5 tsp agave nectar
*Recipe courtesy of Prevention
Caffeinated Mood Magic
If you don't have a problem with coffee, this recipe includes a double shot. Blended with these brain boosting ingredients, this recipe increases dopamine release. Dopamine is a brain neurotransmitter responsible for influencing many functions including 'pleasure'. Try this caffeinated mood magic "milk" shake and you'll be smiling all day long. while getting a lot done at the same time.
Ingredients:
1/2 cup small banana, peeled and frozen
1 Tbsp chia seeds
1/2 tsp ground cinnamon
3/4 cup organic coconut milk
1 double shot organic espresso(approximately ½ cup)
*Recipe courtesy of The Alternative Daily
Amazing Almond Accelerator
Almonds are super nuts, capable of delivering high protein while also boosting dopamine production. In this smoothie recipe, ginger and cinnamon work in conjunction with almond properties delivering a smoothie that kicks up metabolism, helps regulate blood sugar and lifts your mood all at once.
Ingredients:
1 small frozen banana, sliced
3/4 cup kale, slightly packed, stems removed
3/4 cup almond milk
3/4 Tbsp almond butter
1/8 tsp cinnamon
1/8 tsp nutmeg
1/8 tsp ground ginger
*Recipe courtesy of Prevention
Try each of these 7 body boosting smoothies like they are a natural medicine cabinet when you need it most. All it takes is mixing the right ingredients while avoiding sugar, fat and other unnecessary, processed additives which only detract from your optimal health. Working these smoothies into your daily routine is a healthy, delicious way to stay ahead of the curve.