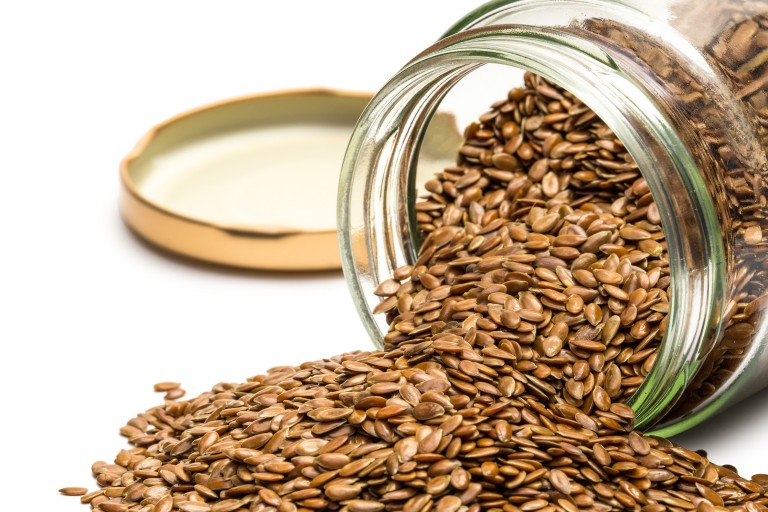 If you struggle with skin issues such as adult acne or you just want your skin to look healthier there are several things you can do.
Your skin can benefit from lots of water, avoiding processed foods, eating a clean plant based diet and by adding a few servings of super seeds per day. Super seeds are highly potent botanicals that when eaten raw or topically applied as an oil, offer a variety of healthy skin benefits.
These 5 super seeds for super skin may be an excellent addition to your diet for optimal skin health.
Don't Lax in Flax
Flaxseed has been a potent go-too super seed for its vast nutritional value and significant healing abilities. It holds unique compounds that can boost specific hormones in the body capable of increasing anti-aging such as skin improvement. This seed is high in omega-3 fatty acids, B vitamins, magnesium and iron, yet it is its vitamin E content that may enhance healthy skin.
In a study by German researchers from Dermatologische Klinik und Poliklinik, Ludwig-Maximilians-Universität, München, published in the Journal of Molecular Medicine, it was found that,
"Vitamin E is the major naturally occurring lipid-soluble non-enzymatic antioxidant protecting skin from the adverse effects of oxidative stress including photoaging…Many studies document that vitamin E occupies a central position as a highly efficient antioxidant, thereby providing possibilities to decrease the frequency and severity of pathological events in the skin."
Powerful Pumpkin
Pumpkin seeds are an underrated food source that contains vitamin C, magnesium, chlorophyll, zinc, iron, protein, B vitamins and also omega-3 fatty acids. These super seeds have been used for centuries as a raw snack or recipe addition to being ground into a potent oil that can be topically applied to skin.
Harper's Bazaar (9/15/14) cites the benefits of pumpkin seed oil,
"Pumpkin seed oil (PSO) is rich in vitamin E, zinc, omega 3- and 6- fatty acids as well as antioxidants, therefore it has tremendous benefits for the skin in terms of retaining moisture, fighting free radicals and maintaining a youthful appearance. The high amounts of zinc and vitamin E also improve skin tone, help wounds heal more rapidly, fight acne and help with skin renewal. Lastly, many of the minerals and vitamins have anti-aging effects as well."
Ch-Ch-Chia
It's ironic that a popular 1970's television ad selling chia seeds that grow through holes in a ceramic animal would become the super seed of the past decade. These tiny pulses have similar nutrition as the other seeds but at just one tablespoon per day have been attributed to:
Preventing and minimizing wrinkles
Improving firmness
Clear acne
Increase nail growth
According to researchers at Korea University College of Medicine, topical application of chia seed oil to skin adversely affected by end-stage renal disease (ESRD) showed that,
"After the 8 weeks of application, significant improvements in skin hydration, lichen simplex chronicus, and prurigo nodularis were observed in all patients…Chia seed oil can be used as an adjuvant moisturizing agent for pruritic skin, including that of ESRD patients."
Holy Hemp
Hemp is derived from the cannabis or marijuana plant, however it does not hold the drug affects that the leaves do. In fact, hemp is one of the safest, most versatile, healing bi-products of the plant, particularly the seeds.
Hemp seeds have been found to contain chlorophyll, iron, vitamin E, magnesium, potassium, protein and omega-3 and 6. The omega-6 in hemp holds GLA (gamma-linolenic acid) which has been linked to enhancing skin glow as well as reducing systemic skin stress.
A study by researchers at Department of Pharmaceutical Chemistry, University of Kuopio, Finland and published in the Journal of Dermatological Treatment concluded that,
"Dietary hempseed oil caused significant changes in plasma fatty acid profiles and improved clinical symptoms of atopic dermatitis. It is suggested that these improvements resulted from the balanced and abundant supply of PUFAs [polyunsaturated fatty acids] in this hempseed oil."
Says Who? Sesame.
Sesame seeds show super seed status when ingested, as well as topically applied, particularly as a preventative for skin cancer.
The journal Prostaglandins, Leukotrienes & Essential Fatty Acids published a study by the Laboratory for Preventive Medicine, Department of Physiological and Biological Sciences, Maharishi International University, Fairfield, Iowa which stated that,
"We found that sesame and safflower oils, both of which contain large amounts of linoleate in triglyceride form, selectively inhibited malignant melanoma growth over normal melanocytes whereas coconut, olive and mineral oils, which contain little or no linoleate as triglyceride, did not."
Try these 5 super seeds for super skin and see if your epidermis begins to resurface stronger  and more glowing than ever before.