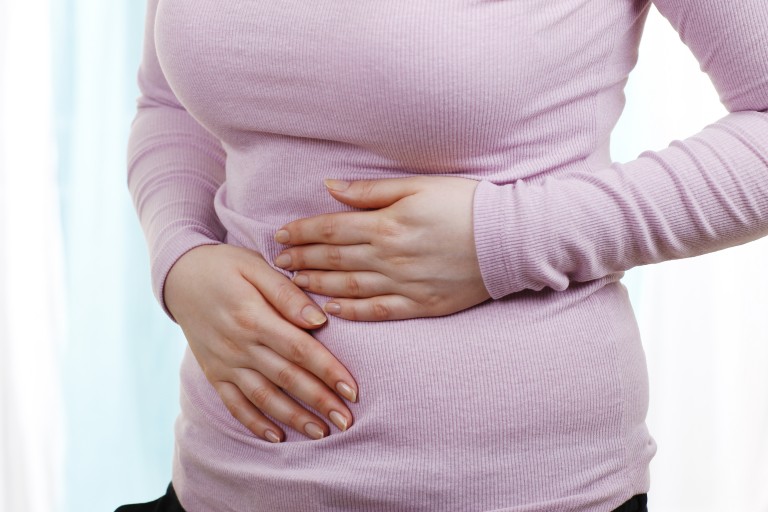 Nausea is an uncomfortable, uncontrollable reaction to anything from external environmental sources such as motion, smells or visual experiences as well as internal challenges such as a gastrointestinal virus, parasitic or bacterial reaction like food poisoning.
In some cases vomiting is essential to rid your body of toxins however using these 5 natural remedies for nausea could help you stop a potential vomiting reaction until you can get to a better location.
Ginger
The root of the ginger plant is a medicinal herb that has been used in ancient healing for centuries. According to the University of Maryland Medical Center, ginger root has been applied to gastrointestinal problems that include stomach aches, diarrhea and nausea for over 2,000  years.
A 1988 Danish study concluded beneficial results for 80 naval cadets who took ginger root powder as opposed to the non-ginger applied control group of cadets who experienced cold sweats, dizziness, and vomiting.
Prepare as a tea or slice shavings directly off the raw root (found in many supermarkets and health food stores) and let steep in hot water to drink when cool or place shavings directly under your tongue but be careful as they can be very spicy.
Peppermint
Another age-old remedy is peppermint, a continued go-to tool for reducing nausea symptoms.
Lauren Richter, DO, assistant professor of family and community medicine at the Center for Integrative Medicine at the University of Maryland School of Medicine comments,
"Peppermint is also wonderful for nausea,…This is also very safe in pregnancy,"
Also, researchers from Clayton State University, Morrow, GA concluded in a study using peppermint for post-surgery nausea that,
"The nausea levels of participants in the peppermint spirits group were significantly lower than those of participants in the other two groups 2 and 5 minutes after the initial intervention."
Use as a peppermint tea or inhaled essential oil. Capsules are also available but may take longer to assimilate.
Lemon
The fresh scent of lemon along with its naturally occurring enzymes can be of great relief if nausea strikes. Squeeze half a lemon into filtered room temperature water and slowly sip until nausea subsides.
In addition, be sure to take a good whiff of the fresh lemon or better yet obtain some lemon essential oil from a health food store and repeatedly dab on your pulse points (inner wrists, temples and neck) during a nausea event. You can also suck on a lemon directly although it may be too acidic for some.
A study published in the Iranian Red Crescent Medical Journal concluded that,
"Lemon scent can be effective in reducing nausea and vomiting of pregnancy."
The BRAT Diet
When nausea strikes think banana, rice, applesauce and toast. This is known as the BRAT diet and works very well to quell nausea and an upset stomach. In fact, over toasting bread may be beneficial as it is believed that the charred part is a natural nausea remedy.
According to the book 'Human Biochemistry and Disease' by Gerald Litwack,
"The carbon in the charred bread absorbs impurities and toxins, and it acts like a filter to prevent some compounds and microorganisms from passing through the mucus membrane of the gut"
Acupressure
Acupressure points may be all you need to bring you off the nausea inducing ledge. In fact, it has become so beneficial that chains stores now carry acupressure wristbands you simply velcro on to let it do its magic. The major point targeted is PC or pericardium 6 located approximately center of the inside of the wrist.
A pilot study by Australian researchers published in Complimentary Therapies in Medicine 6/23/16 states that,
"Findings suggest that a large placebo-controlled randomized controlled trial to test the efficacy of PC 6 stimulation on PONV in the post-cardiac surgery population is feasible and justified given the preliminary clinically significant reduction in vomiting in the intervention group in this pilot."
When you are feeling queasy try these 5 natural remedies for nausea to see if one may help. These are easy ways to feel better quick especially if pregnant or traveling.