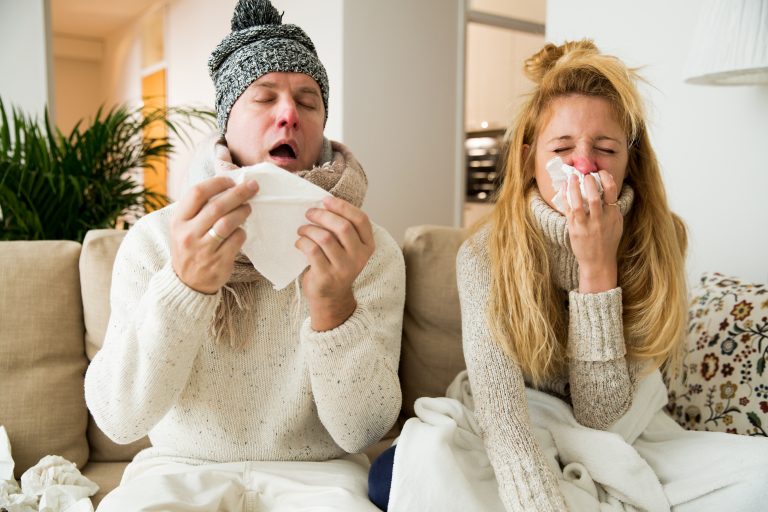 You may have gotten your flu shot but that does not mean you are out of the woods yet. The cold and flu season is just starting to ramp up and if it is anything like the deadliest season in 2018 (80,000 deaths and 900,000 hospitalized) you are going to want to take additional action.
These 5 natural flu season remedies can be of excellent assistance and with science backing many of them a safe, an effective choice.
The Shot
Many people opt out of the flu shot and for good reason. Because it is a predictive vaccine it is the guesswork of a board of scientists that only speculated 36% effectiveness in 2018. According to The British Medical Journal (BMJ) and the Centers for Disease Control and Prevention (CDC), both report of modest effectiveness of the flu shot.
Yet, some chance at warding off this sometimes deadly outbreak is better than no chance at all.
MarketWatch reports Dr. Keith Roach, physician at NewYork-Presbyterian/Weill Cornell Medical Center who commented,
"There's some benefit, and it's usually free, since it's covered by insurance, so the value that you get for the cost is infinite," If you're uninsured, the shots run between $40 and $60 at drugstores like CVS, Walmart and Target, or those with Costco or Sam's Club memberships can get jabbed for just $20 or $30. You can also find health centers near you, or look up your state's vaccine offerings, at Vaccines.gov"
So, the flu shot is considered a valid, natural (it's made from the flu virus) remedy. However, if you still don't feel comfortable getting this inoculation or want to use natural remedies as an adjunct to the shot try these subsequent recommendations. Take note that it is important to check with your physician or naturopathic doctor to make sure you do not have any contraindications to these natural treatments.
Spike Binding Black Elderberry
The tincture of black elderberries (Sambucus nigra) has shown significant response to the flu virus. The unique immune-modulating and antioxidant effect of this natural remedy has some users swearing by its potent powers. When taken in a tincture under the tongue (the most effective, conventional delivery), compounds in elderberry immediately begin to protect cells with unique 'spike binding capability'.
According to Healthy Living Magazine, in 1983 Madeleine Mumcuoglu, PhD led researchers at Hadassah-Hebrew University Medical Center at Ein Karem in Israel, in study that, "isolated several proteins and other active principles in black elderberry (Sambucus nigra) that disarm the viral spikes by binding to them and preventing them from puncturing cell membranes."
According to a report by Healthline,
"[a] study of 64 people found that taking 175-mg elderberry extract lozenges for two days resulted in significant improvement in flu symptoms, including fever, headache, muscle aches and nasal congestion, after just 24 hours"
It is recommended to take one eye dropper full of elderberry tincture under your tongue one to two times per day especially during flu season. The taste is pleasant to most people.
Oregano, Not Just On Pizza
The extracted oil from the oregano herb can be a highly effective treatment when it comes to preventing or fighting off the flu.
Reader's Digest cites Patrick Fratellone, MD, a leading integrative medicine doctor and registered herbalist with the American Herbal Guild, who recommends oregano oil, stating,
"Oregano is a powerhouse of flu-fighting properties, since it's antibacterial, antifungal, and an antioxidant, and it can also be used as an expectorant to treat lung or respiratory conditions,"
Take under the tongue (careful it is spicy) or diluted in water. May belch up oregano taste after consuming. Can be taken one to two times per day.
Garlic Sandwich
Yup, sounds gross, but a garlic spread with some olive oil on a piece of nutritious bread (sprouted, gluten-free, whole grain) just might rev up your system's calvary.
Steve Sietos, clinical herbalist and New York City–based founder of Urban Herbalist commented to Reader's Digest,
"When you have yellow or green phlegm, reach for that garlic. It's highly antiviral, immune stimulating, and it'll kill any upper respiratory infections,"
Chop up a few cloves of garlic and let sit for about fifteen minutes, then add to toast with olive oil, salt, pepper, maybe olives, avocado, etc. It has been found that when garlic is pierced it reacts with atmospheric oxygen forming a compound called annacin, Annacin is responsible for the antibiotic effects of garlic, so take your time and then consume. Garlic can also be added to smoothies, soups, sauces, and so much more.
Virus Killer: Olive Leaf Extract
A squirt of olive leaf extract (OLE) in water or under your tongue, once or twice per day, could make your body a harder place for viruses to thrive. According to University Health News Daily (UHN), OLE contains the phytochemical oleuropein which works to fight viruses on several fronts, including acting as an:
Antioxidant,
Anti-inflammatory
Anti-cancer
Antimicrobial
Antiviral
Livestrong reports that,
"In a laboratory and animal study published in 2009 in Journal of Ethnopharmacology, researchers found that oleuropein [] was active against the hepatitis B virus both in test tubes and in live ducks. They noted that oleuropein effectively blocked the secretion of hepatitis B surface antigen in cells, while reducing the presence of virus in the blood of ducks infected with hepatitis B."
This flu season, stay out of harms way by using these 5 natural flu season remedies along with plenty of sleep, hand washing, and an unprocessed, clean, plant-based diet. It is a formula that just may have you skating through and enjoying a wonderful wintertime without pain and discomfort.