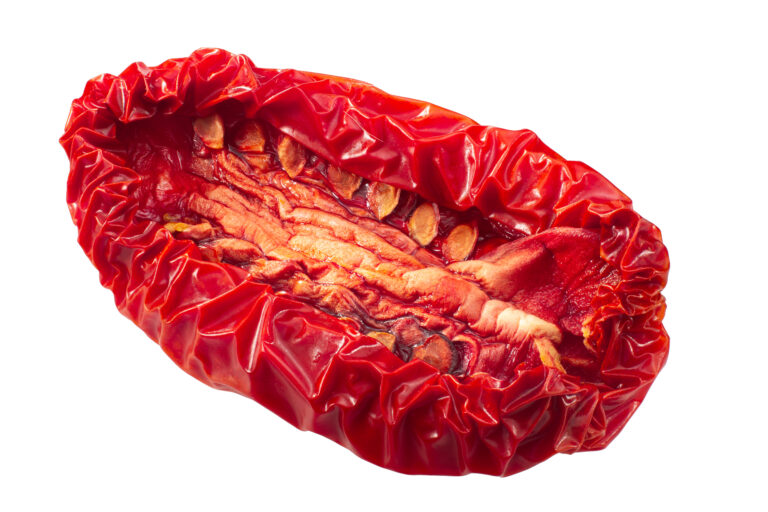 The drying of meats, fish, fruits and vegetables has been in existence practically since humans figured out how to eat and store food. There are all sorts of health advantages when it comes to dried foods making them a great addition to any meal or as a tasty snack along the way.
Sun dried tomatoes are the result of tomatoes dried in the sun for up to ten or more days. With all kinds of processing of sun dried tomatoes, the nutritional benefits can vary along with sodium levels. If you like sun dried tomatoes or want to give them a try, these 11 health benefits of sun dried tomatoes are some facts that might warrant consideration. Plus, try a sun dried tomato recipe to bring these savory treats right into your meal prep.
Chock Full of Good Stuff
When foods are dried, the nutritional value can sometimes increase. Sun dried tomatoes are packed with a good amount of various nutrients that it only takes one cup to gain high marks on specific daily allowance intake protocols.
According to an article on sun dried tomatoes by the San Francisco Gate (SFG), one cup of this tasty, chewy, textured food contains:
Protein and fiber – 139 calories, 8 grams of protein and 7 grams of fiber – This means that men get 14 percent of the recommended daily intake of protein and 18 percent of fiber, while women gain 17 percent of their daily intake of protein and 28 percent of fiber.
Potassium – 39 percent of the recommended daily intake of potassium – This is essential for muscle contraction and the transmission of nerve impulses.
Iron – Men get 82 percent and women obtain 27 percent of the recommended daily intake of iron
B vitamins – 23 percent of the daily intake of thiamine and riboflavin, as well as 31 percent of niacin
Add in good amounts of antioxidants and sun dried tomatoes could be on the edge of becoming a superfood. The SFG article measures one cup of sun dried tomatoes antioxidant levels:
Vitamin C – 23 percent of the recommended daily intake. Vitamin C supports the immune system and scavengers free-radicals.
Vitamin A – 16 percent of the recommended daily intake. Vitamin A includes lycopene, lutein and zeaxanthin three major antioxidants in the prevention of macular degeneration
Environmentally Friendly
Eating foods that can sustain a long shelf often warrants a low impact on the environment. Sun dried tomatoes are no exception as the process to produce and store them takes a lot less energy than many other food products. Here are some of the environmentally friendly facts of sun dried tomatoes:
Last up to eighteen months stored or on the shelf for purchase
Low carbon footprint – Doesn't take much energy to manufacture
Low water footprint – Takes much less water to produce than animal products
Sustainable – No known significant damage to air, water, land, soil, forests, etc. as long as pesticides have not been used (purchase non-GMO and/or organic sun dried tomatoes)
Vegan – No animals or animal products are used to produce sun dried tomatoes.
Easy Sun Dried Tomato Recipe
One way to incorporate sun dried tomatoes into your meal plan is to add them to pasta dishes. These recipes are an easy and delicious mix of predominately plant-based ingredients for a clean wholesome nutritious taste to get you started.
Spinach and Sun Dried Tomato Pasta
Ingredients:
1 cup vegetable broth
12 dehydrated sun-dried tomatoes
1 (8 ounce) package uncooked penne pasta
2 tablespoons pine nuts
1 tablespoon olive oil
¼ teaspoon crushed red pepper flakes
1 clove garlic, minced
1 bunch fresh spinach, rinsed and torn into bite-size pieces
¼ cup grated Parmesan cheese
Directions:
In a small saucepan, bring the broth to a boil. Remove from heat. Place the sun-dried tomatoes in the broth 15 minutes, or until softened. Drain, reserving broth, and coarsely chop.
Bring a large pot of lightly salted water to a boil. Place penne pasta in the pot, cook 9 to 12 minutes, until al dente, and drain.
Place the pine nuts in a skillet over medium heat. Cook and stir until lightly toasted.
Heat the olive oil and red pepper flakes in a skillet over medium heat, and saute the garlic 1 minute, until tender. Mix in the spinach, and cook until almost wilted. Pour in the reserved broth, and stir in the chopped sun-dried tomatoes. Continue cooking 2 minutes, or until heated through.
In a large bowl, toss the cooked pasta with the spinach and tomato mixture and pine nuts.
Serve with Parmesan cheese.
Sun Dried Tomato and Basil Grilled Cheese
Ingredients:
7 ounces sundried tomatoes (about 2 cups or 30 tomato halves)
3 tablespoons sherry vinegar
1 tablespoon honey
1 tablespoon olive oil
½ teaspoon kosher salt
4 ounces chopped pancetta (about ½ cup)
4 tablespoons unsalted butter
8 slices sourdough bread
20 basil leaves
8 ounces mozzarella cheese, shredded
8 ounces gruyere cheese, shredded
Directions:
If your sundried tomatoes are packed in oil, drain them and remove as much oil as possible by patting them with paper towels.
Combine the sundried tomatoes, vinegar, honey, oil (you will not need the oil if your sundried tomatoes came packed in oil), and salt in the bowl of a food processor and process this mixture until you have a puree. This should make about 1 cup of puree.
In a small skillet over medium heat, cook the pancetta until crisp—about 5 minutes. Drain the pancetta on a paper towel and set it aside.
Spread the butter on one side of each of 8 slices of bread. Place the bread butter-side down on your cutting board and spread 1-2 tablespoons of the puree on top of 4 of the bread slices. Sprinkle the pancetta evenly over the 4 slices—on top of the sundried tomato puree. Top the remaining 4 slices of bread with the basil leaves, mozzarella, and gruyere; then place the pieces of bread with the sundried tomato puree on top of them so each sandwich includes sundried tomato puree, pancetta, basil, and cheese.
Heat a large skillet over medium-low heat and place the sandwiches in the pan, working in batches if necessary. Cook them until the cheese is melted and the bread is golden brown on both sides—3-5 minutes per side. If your bread begins to brown before your cheese is melted, turn your heat down and/or cover the pan.
Remove the sandwiches from the pan, cut them in half, and enjoy!
Sun dried tomatoes are a rich wholesome food that can really put a yummy zing into your meals. Take advantage of these 11 benefits of sun dried tomatoes and enjoy some of these great recipes today.
Sources:
https://www.allrecipes.com/recipe/73208/spinach-and-sun-dried-tomato-pasta/
https://healthyeating.sfgate.com/health-benefits-eating-sun-dried-tomatoes-2314.html
https://healabel.com/s-ingredients/sun-dried-tomatoes
https://www.nikkidinkicooking.com/blog/sundried-tomato-basil-grilled-cheese.html