Preserve Mac Forte Advanced
"I found it [Preserve Mac Forte] on the Internet and started reading about it and decided I need to try this. I had been diagnosed 5 years ago with macular degeneration and I had been to a specialist for cataracts. I looked on the Internet and found this and thought that this sounds like something that would really help me.

I've been using it about 5 months. I want to tell you that in between times I had gone to another specialist. Six weeks after I started taking Preserve Mac Forte my eyesight had changed tremendously.

When I went to the first doctor in May he told me my eyesight was 20/70 and 20/60. When I went to the next doctor 6 weeks later after taking Preserve Mac Forte my eyesight had gone back to 20/40 and 20/30. I was pleased. That had been the prescription in my glasses the last two years so I continued taking Preserve Mac Forte. I had been taking another vitamin but it wasn't doing what this did.

I believe the mixture of vitamins and minerals is what is helping my eyes. I told two of my doctors already that I was taking this and they both wanted to know where they could get it. They thought about prescribing this to other patients or at least telling them about it."*

*Disclaimer: While this testimonial is remarkable, it should be noted that their results are extraordinary and not typical.  Most people will not experience improvements in their vision, and lost vision due to age related macular degeneration cannot be restored. Our best hope is to slow the progression and reduce our risk of vision loss.

- Janice Sims,

Montgomery, Indiana
"I was having quite a bit of problems at night driving at the time and I went immediately on the Preserve Mac Forte and right after I started on it, I had an improvement in vision and have been on it ever since. So that would be approximately 4 years and it has improved my vision considerably.

I had a break in the use of it for about a month and I started having a problem with one eye. It was like there was a light in the left eye… like a center vision problem… just a small central vision problem there, but I got right back on it and everything straightened right back up.

There is quite a bit of difference because I was having to use my glasses and there was blurriness in my vision at that time, but now I can sit and watch television with no vision problem at all without my glasses.

All I know is that within a month's time I realized dramatic improvement in my vision and it has done nothing but help me from the moment I started taking it, and all I can say to anyone is to try it. I would like to tell you that I appreciate how you have serviced this account. You are excellent on servicing it. "*

*Disclaimer: While this testimonial is remarkable, it should be noted that their results are extraordinary and not typical.  Most people will not experience improvements in their vision, and lost vision due to age related macular degeneration cannot be restored. Our best hope is to slow the progression and reduce our risk of vision loss.

- Iris Clough,

Douglas, Georgia
"My mother had macular degeneration and was blind. It started in her 70's. The doctor told her it was hereditary. One day I decided to get on the computer and look up macular degeneration and I happened to come across Preserve Mac Forte. I thought, if I could start taking this then possibly I would not have the problem. So I decided to start taking it. I took 2 in the morning and 2 in the evening. This was 3 years ago. After 6 months I noticed that my glasses were really bothering me. So I went to my eye doctor and he told me my eyes were better. My glasses went down one step. I continued taking it and after a year I regressed back 2 pairs of glasses. I went back to my doctor and he said he could not believe what had happened. I would like for other people to know that Preserve Mac Forte works. If anyone is skeptical about trying Preserve Mac Forte I would say don't hesitate and take it immediately."*

*Disclaimer: While this testimonial is remarkable, it should be noted that their results are extraordinary and not typical.  Most people will not experience improvements in their vision, and lost vision due to age related macular degeneration cannot be restored. Our best hope is to slow the progression and reduce our risk of vision loss.

- Dorothy Hames,

Tuttle, OK, Age 76
"I am pleased to tell you that my macular degeneration has not progressed since I have taken your capsules [Preserve Mac Forte] for four years."*

*Disclaimer: While this testimonial is remarkable, it should be noted that their results are extraordinary and not typical.  Most people will not experience improvements in their vision, and lost vision due to age related macular degeneration cannot be restored. Our best hope is to slow the progression and reduce our risk of vision loss.

- Roswitha Robertson,

Havelock North, New Zealand, Age 84
"I found the product on the Internet.  I tried  Preserve Mac Forte because of reliability of the source and have been using it about 10 months.  The thing I like most is the ease of taking.  I have tried other products, but this has more ingredients to help my eyes.   I have already had a friend change to this product.  Our doctor also suggested my husband take one pill per day as a precaution.  I have macular degeneration and so far this [product] has helped to stabilize the progression."*

*Disclaimer: While this testimonial is remarkable, it should be noted that their results are extraordinary and not typical.  Most people will not experience improvements in their vision, and lost vision due to age related macular degeneration cannot be restored. Our best hope is to slow the progression and reduce our risk of vision loss.

- Mrs. R. Scott Patton,

Jasper, TN, Age 82
"I heard about this product from a friend.  I decided to try it because my friend had good results.  I starting using Preserve Mac Forte in November of 2008 and what I like most is that it seems to be helping my condition.  The improvement that I have experienced is the macular degeneration has not progressed since first found.  I would tell people who are thinking about trying Preserve Mac Forte that originally I was somewhat skeptical, but would recommend to try it for 6 to 8 months and see if it helps you."*

*Disclaimer: While this testimonial is remarkable, it should be noted that their results are extraordinary and not typical.  Most people will not experience improvements in their vision, and lost vision due to age related macular degeneration cannot be restored. Our best hope is to slow the progression and reduce our risk of vision loss.

- Dennis Reeder,

Morrrow, Georgia, Age 75
"The thing that first attracted me is the fact that the doctor who has made the vitamins to help me has [AMD], so I think someone is very understanding of something if they have it themselves. I know I have gotten my medicine when I was supposed to the whole time and I've been thankful about taking it. Everybody has been really, really nice to me. I couldn't say anything bad about this company at all. It's not that expensive because the doctor that I talked to in Abington, VA about it said that you need to continue taking that because sometimes you get really expensive stuff and what you have is not that expensive so it is something that is affordable."*

*Disclaimer: While this testimonial is remarkable, it should be noted that their results are extraordinary and not typical.  Most people will not experience improvements in their vision, and lost vision due to age related macular degeneration cannot be restored. Our best hope is to slow the progression and reduce our risk of vision loss.

- Joyce Ann Patton,

Cedar Bluff, Virginia
Preserve Mac Forte Advanced
Preserve Mac Forte Advanced contains a powerful formulation of antioxidants, vitamins,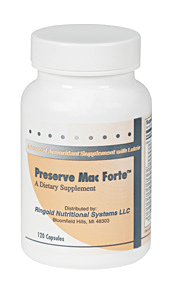 and minerals.  Its formula is based on AREDS 2 and created by a U.S. licensed physician after he was diagnosed with age related macular degeneration.  Thousands of customers with macular degeneration from around the world have trusted Preserve Mac Forte Advanced to support the health of their eyes and protect their vision.
The comprehensive ingredient list consists of 27 total items that support healthy eyes, as well as offers full body support.†  Many macular degeneration vitamins contain only the minimum ingredients acting only as an eye vitamin, but Preserve Mac Forte Advanced can be used as a daily general health supplement as well.
Disclaimer:  There is no known way to reverse macular degeneration nor improve lost vision from macular degeneration.  The best hope is to slow the progression through proper nutrition and supplementation.  Most customers who use our eye vitamin, Preserve Mac Forte, do not and will not see any improvements in their vision nor score better on their eye exams.  The results from our customers expressing such improvements are not typical and are considered exceptional results.  Statements made in these materials have not been evaluated by the United States Food and Drug Administration and are for informational purposes only and is not intended as a substitute for advice from your physician or other healthcare professional. This product is not intended to diagnose, treat, cure or prevent disease.  As with any vitamin supplement you should check with your physician before starting.