Preserve Mac Forte Advanced
Suggested Usage:
As a dietary supplement, adults take 4 to 6 capsules daily or as directed by your healthcare professional. This product is best taken with meals.
Most consumers take 2 capsule with breakfast and 2 capsules with dinner.  Capsules may be opened and poured into liquid for those with difficulty swallowing capsules.
Preserve Mac Forte Advanced
Preserve Mac Forte Advanced contains a powerful formulation of antioxidants, vitamins,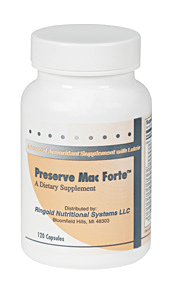 and minerals.  Its formula is based on AREDS 2 and created by a U.S. licensed physician after he was diagnosed with age related macular degeneration.  Thousands of customers with macular degeneration from around the world have trusted Preserve Mac Forte Advanced to support the health of their eyes and protect their vision.
The comprehensive ingredient list consists of 27 total items that support healthy eyes, as well as offers full body support.†  Many macular degeneration vitamins contain only the minimum ingredients acting only as an eye vitamin, but Preserve Mac Forte Advanced can be used as a daily general health supplement as well.