What are AREDS and AREDS 2?
Here is exactly what these terms mean:
People use the terms AREDS and AREDS 2 like everyone understands exactly what they mean, however, there can be confusion because these terms technically refer to studies and not the name of a vitamin supplement.
The National Eye Institute of the US National Institutes of Health completed two of the largest studies on age related eye disease called AREDS and AREDS 2.  This acronyms stands for Age Related Eye Disease Study.
The original study is the AREDS and the follow up study is the AREDS 2.
Researchers found that supplementing your diet with a daily eye vitamin containing very specific items can slow the progression of dry macular degeneration.
National Eye Institute Director, Paul Sieving, M.D., Ph.D., reported supplementation is the only way to decrease risk of vision loss.
NEI director Dr. Paul A. Sieving, reports, "At present, the only established way to decrease the risk of vision loss in people with large drusen is to take daily supplements of vitamins and minerals as used in the NEI-supported Age-Related Eye Disease Study (AREDS)."
Here is what is important to understand:
The most recent and authoritative study on age related macular degeneration is the AREDS 2 study. When a physician recommends an AREDS 2 vitamin, they are referring to a vitamin that contains the ingredients that were studied in the AREDS 2 study.
There is NO vitamin that is named "AREDS 2."  There are only vitamin supplements that are based on the research findings of the study.
If you are looking for an AREDS 2 based formula, then check out the ingredients found in the powerful Preserve Mac Forte Advanced ocular supplement.
Preserve Mac Forte Advanced
Preserve Mac Forte Advanced contains a powerful formulation of antioxidants, vitamins,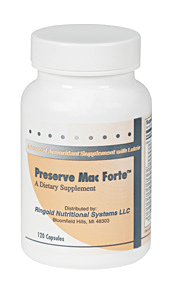 and minerals.  Its formula is based on AREDS 2 and created by a U.S. licensed physician after he was diagnosed with age related macular degeneration.  Thousands of customers with macular degeneration from around the world have trusted Preserve Mac Forte Advanced to support the health of their eyes and protect their vision.
The comprehensive ingredient list consists of 27 total items that support healthy eyes, as well as offers full body support.†  Many macular degeneration vitamins contain only the minimum ingredients acting only as an eye vitamin, but Preserve Mac Forte Advanced can be used as a daily general health supplement as well.